12:45p update:

Just spoke with his wife, Rita and landlord Carrie Garnes. Apparently there was some internal bleeding, perhaps a stomach hemorrhage and then his heart gave out. I may head out to say a word or several at services which are tentatively planned for Saturday and I will most definitely be updating this entry with Ms. Garnes' notes from when Jerry Doyle called her every day from being locked in the hole for no lawful reason whatsoever because of Judge Pollitt:
"Yes Mr. King I have notes... Jerry would call me every day when he was up in there."
"I know, right... and there were people stealing money and doing hard crimes who got weekend jail time but Pollitt and (Mary Jo) Kilroy and those folks got his ass stuck in the hole after he spoke up on WTVBN... then he lost his leg from poor medical care."
"That's right.. you know they basically murdered him."
"I know."
Note:

I believe the local Federal Courts found a way to have his case dismissed in its entirety. Columbus, Ohio is a hell hole for Civil Rights, pure and simple.
KingCast Eulogy for Civil Rights Activist Jerry Doyle of Columbus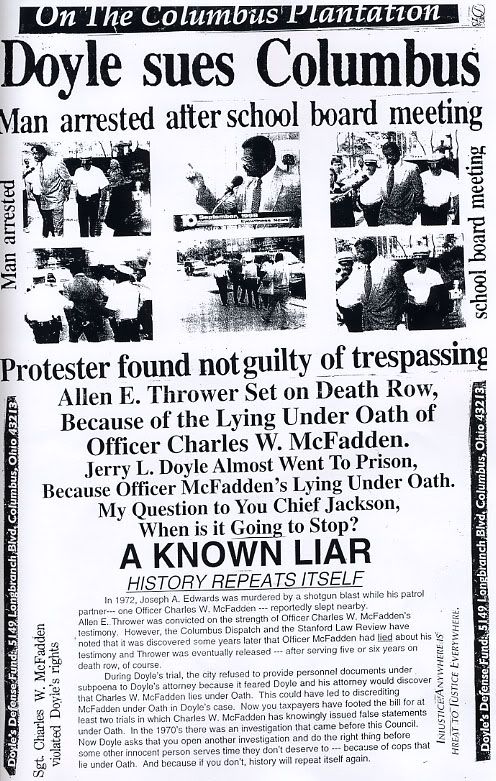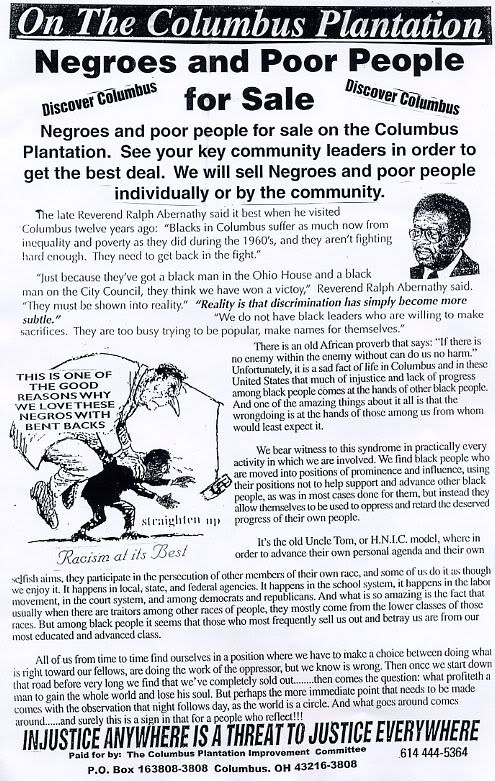 Rita this is for you honey I will call you later today: I knew Jerry Doyle died the minute I awoke this morning and started reading my tracker. It turns out that one of his subsequent lawyers -- Bob Fitrakis -- wrote it up here. Now remember, Bob Fitrakis or John Waddy can never be too closely aligned with Yours Truly but it is an undisputed fact that I was Jerry Doyle's favorite attorney and he was my favorite client. He got me in a lot of trouble with some of his fliers claiming that the system was out to get me.... back in The Day anyone could walk anywhere in Federal Court and Jerry Doyle would do just that with some of the fliers I will be posting throughout the morning. He was the contemporary version of the original pamphleteers that spawned the First Amendment, ab initio. We had not spoken for a few months now but I will never forget the last thing we said to each other:
"Keep on keepin' on, Jerry....."
"Keep on keepin' on, King."
I will indeed keep on keepin' on -- a phrase I coined from our Cleveland Matriarch Mother Ann -- just take a look at my Occupy Wall Street and Occupy Boston events, soon to be expanded with updates. Look at yesterday's open letter to the Rhode Island ACLU about my Free Press racial case in NH Federal District Court (KingCast v. Kelly Ayotte, NH GOP and Nashua PD 2010-CV-501) where all the judges recused after I busted the Magistrate for nondisclosure of her working relationship with Defendant Kelly Ayotte's law firm McLane, Graf. Also take a look at the trifecta of perfectly disturbing cases with Joanna Marinova's successful defamation case against the Boston Herald where I helped her find counsel as well as the ongoing saga of eMusic CEO and International felon Adam Klein is posed to attack Spotify but is really too busy paying his lawyers to avoid proper child support payments. At any rate this is what I wrote in response to the Bob Fitrakis story: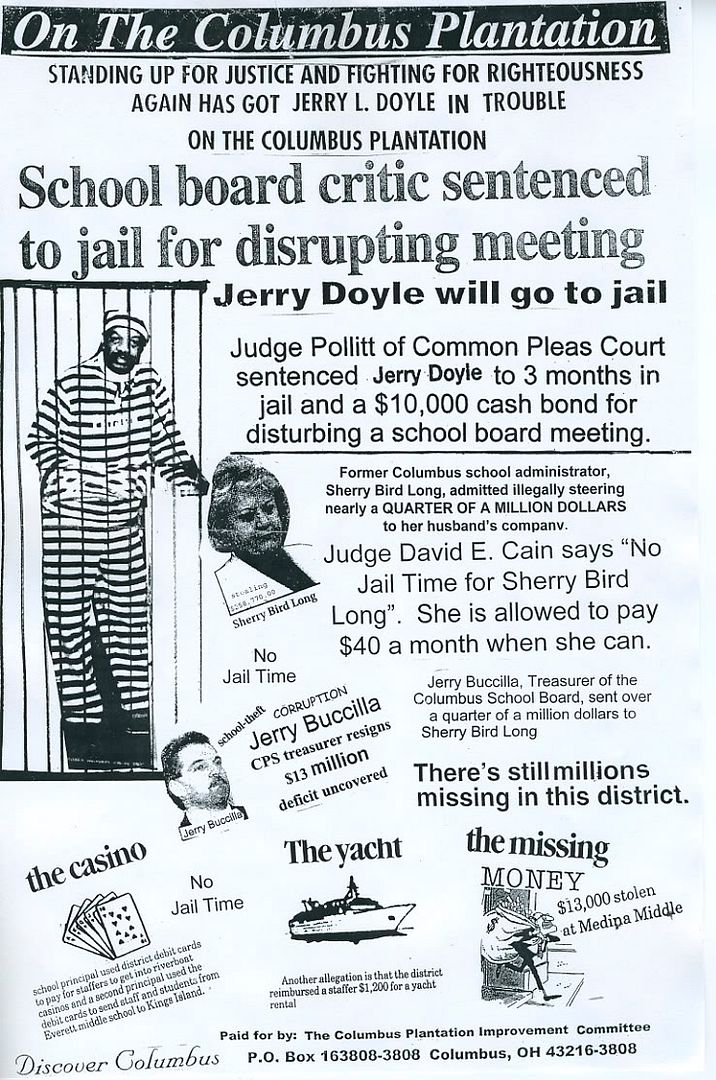 **************
As his attorney in the 1990's I prevailed in a number of cases for Jerry Doyle, most notably the criminal trespass case seen in the YouTube link at the end of this post. Along the way City Council was forced to allow him to speak again after they shut him out for no lawful reason but the U.S. District Court denied actual victory to us even though we won and he was allowed to speak again after eight (8) months or so of being shut out, see
Doyle v. Columbus City Council
,
41 F.Supp.2d 765 S.D.Ohio,1998
. The recent comments from City Council President Kennedy prove they got away with bloody murder, it was a content-based restriction pure and simple and just as I said in the first place: I got it
right here, folks read it and weep, Columbus Dispatch 20 Sept. 2008
:
"In 1996, he tangled with the Columbus City Council when then-council President John P. Kennedy barred him from speaking. Kennedy complained that Doyle kept protesting two things: the city paying for police protection at a Ku Klux Klan rally, and his mistreatment by the school board.






Doyle filed a federal lawsuit over that. A judge dismissed that case in 1997, and a judge threw out a similar suit in 1999. "Jerry Doyle coming in with a white suit, accusing (Mayor) Mike Coleman of being a slave on the white man's plantation" was too much, Kennedy said."
On another occasion Jerry Doyle and I sued Oakfield Nursing Home for wrongful termination and the Jury found me in the hallway to ask WTF happened, why was the case shut down in mid trial. It was because Judge Sheward took the case from the Jury and threatened to have Jerry Doyle and me arrested if we dared say anything or object out loud, he had deputy sheriffs trained on us. When I get home to Boston later this week I am going to go through my VHS tapes to see if we have that, it was shot by Justice for Kids co-founder James Whitaker, same as the top video.
Columbus is so full of dooky they can't even see straight

. People get on me about having a Big Mouth but they can go to hell because everything I say is 100% certifiably true and accurate. The
n after I was gone they locked him up for 119 days over some nonsense and put him in the hole, all of this is on my journal at KingCast blog.
And did you know I was an AAG in Ohio? Well turns out a former AAG stole money but got weekend jail, nice.
I was his favorite lawyer and he was my favorite client, no offense to anyone else. Rest in Peace Jerry, because you got none in Columbus, Ohio.
1. How Judge Pollitt screwed Jerry Doyle and put him in the hole.
2. Ralph Abernathy agrees with Jerry Doyle.
3. You Can Fight City Hall -- Columbus Alive story showing in part that Jerry Doyle and our associates at Justice for Kids were complaining about Columbus School Board financial malfeasance years ago. Judge Pollitt would have let Jerry Doyle out of the hole if he had apologized about his comments but Jerry said no. In fact his comments regarding same are what precipitated the trial and my successful defense of the criminal trespassing charges in the first place. Now POTUS is reading about NCLB fraud in Columbus City Schools.
Jerry Doyle your name and position will be vindicated, Sir. The little people of Columbus thank you for your years of tireless advocacy on behalf of the working class and the downtrodden.