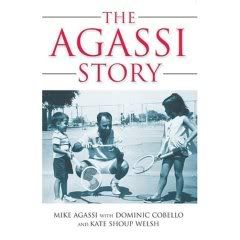 Wimbledon 1992 was a transition year in tennis. McEnroe was on the way out but still deadly on grass. Boris was not as old as Mac but his best years were behind him. But then there was Andre Agassi. Were he not seeing the ball as cleanly as he was that Semifinal day I think Mac could have taken him. No, I'm sure he could have. Whether Mac could have beaten Bobo the next day, I don't know. You need very young legs for that in addition to laser sharp reflexes, and Andre had it all.
He was still young but many wondered what he had in him. Well he sure did prove his meddle that year and for many many afterward. Mac and Andre were both the Nike boys and I dug them both, but let's just put it this way:
I dated two women in the early 90's -- both lawyers now and both moderate tennis fans. We all knew each other and we all agreed that we wanted Mac to win that match... he was the shit, still was and still is..... (read the comments to my Boston Legends vid) but we were happy that someone like Andre took him out because we sensed he was a Good Guy. And we were right: He has shown himself to be exactly that, with his work in education with a certain other legend named Steffi Graf. It is certainly time for him to be in the Tennis Hall of Fame, I may head down to Newport this weekend to check it out but next year I will wait for Vitas Gerulaitis, who is long overdue. I see the hits coming in to this journal because of my Pro Vitas post, so I know a lot of people are wondering about this. And I am sure that Andre agrees. We already know what Mac and Borg think, so I will leave it at that. Justice Delayed is Justice Denied.
Related: KingCast Shout Out to Andre, with a link to the Mike Agassi story.