Dennis Gilman
just notified me that I got 600 Channel views in the past day or so, interesting
.
Anyway, here is
NAACP v. Thompson
, 648 F.Supp. 195 D.Md.,1986, as noted in my
Open Letter
to Judge Landya McCafferty and Defense Counsel. Now curiously, Ayotte's
ertswhile waterboy Dan Mullen
is defending the Federal Case that my investigative efforts spawned,
Liko Kenney v. Gregory Floyd, Town of Franconia et al,
2010-CV-181. Judge McCafferty was to host that case and started to but Defendants want it heard before Judge Barbadoro, who recently remanded my case as 2010-CV-492 to Hillsborough South before it was removed again, winding up as 2010-CV-501 with Judge McCafferty, who worked for McLane Graf as did Ayotte and two of the Defense counsel, Jennifer Parent and Senior Partner Jack Middleton.
Look here
for a movie about this and my Ethics Complaint against Dan Mullen. Mullen is on the direct periphery of this inferno as he lied (or was grossly negligent) to the NH Supreme Court about me and claimed that I wrote a "Fraudulent letter" (Fraud is a legal term of art folks, meaning a finding of fact or law that does not exist in this case), that I was "disbarred" and that I publicly had fantasies about his client, idiot cop Martin Dunn, "raping his daughter." All of this occurred in the context of Dunn and Kelly Ayotte coming after me for writing a Demand Letter to Dunn after 3 of his white, jack-booted thugs stuck loaded service weapons in black man Willie Toney's face and giving him a visual body cavity search for LOITERING. These clowns got me indicted for Attempted Felony Extortion and came after me for Unauthorized Practice of Law when my conduct was clearly protected by the First Amendment, see NAACP v. Button,
371 U.S. 415 (1963). Cases dismissed.
Photo: Ghost of Marty Du
n
n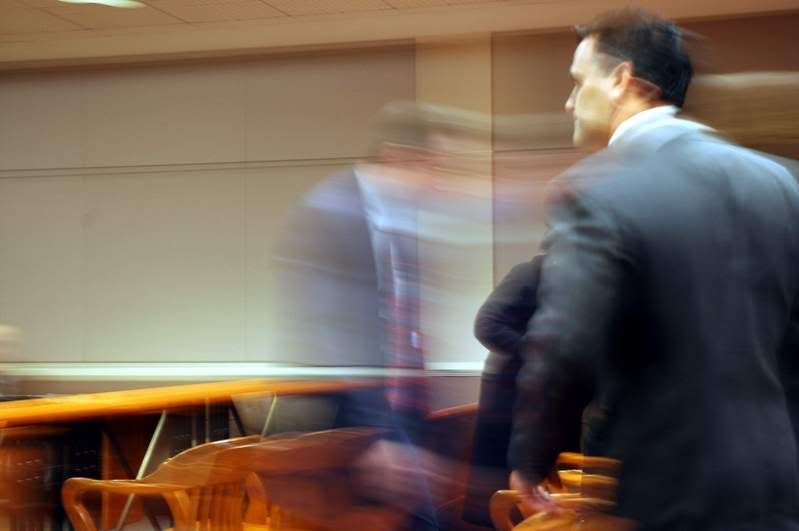 Anyway, all of those statements are completely FALSE. Kelly Ayotte and Marty Dunn both brought cases against me, I mopped the floor with both of them, no plea offered, Marty got fired and it was sustained by Judge and
former AG John Arnold
. Nowadays
Marty is siphoning public taxpayer money, sucking up disability benefits because
Bad Cop News
and I allegedly helped drive him crazy. He's got the the runs, he can't sleep, blah, blah blah but yet this grease bag (his own men called him a
"goddamn despicable slime-bag"
hahahaaaa) had the nerve to laugh about the prospect of me being gang-raped in prison, read the
official transcript.
Dunn was laughing-out-loud about the threat of rape in a hate mail letter to Yours Truly that read in pertinent part:
"you 'bout to be Bubba's bitch you coconut head racist."
These people are Kelly Ayotte's friends.
As that is obviously laughter from Kelly's co-conspirator Chief Dunn about a racial issue,so my Offer of Proof is going to rip at them like there's no tomorrow.
Remember, I warned them.
Here's where I spanked Senator Kelly Ayotte
on an NAACP racially-based, First Amendment issue from when I was NAACP Legal Chair, Southern NH. In Hillsborough South 2005-E-430, she violated the Rules of Civil Procedure and Judge Groff and I cold busted her on it, yep, I have to dig it up at the courthouse because this link disappeared just this very week:
http://img20.imageshack.us/img20/3847/decisionp2ht7.jpg
.
Here is a
cached version
still on the Internet but you can't get it full size.
Ha, jeez they are trying to keep this under wraps, but I have the document in my files or I'll just grab it from the damn courthouse, it's not like they don't have it -- it is an ORDER from Judge Groff denying Summary Judgment, LOL. There is also another letter I have to find or request from the AG's Office that I had hosted online that showed my request to sit down and discuss the First Amendment implications of the NAACP matter with Miss Kelly before she filed on me but she got all arrogant and got her ass handed to her. I made the
same warning
in this case.
Also, back on 4 Oct. 2006
I raised this:
KingCast asks is Kelly Ayotte anti-black on Civil Rights and anti-woman on abortion rights?
AND REMEMBER: Kelly Ayotte refused to take a stance on whether she rejected support from Niggermania website. These crackers wrote that she was correct to "throw his nigger ass out." The video doesn't lie.
So the race-based claims are not going to just slide away as the Reds would hope. The
Mexican Standoff
video shows that when John McCain is in town -- as he was on that day, with Kelly -- sole black reporters will get the heave-ho. Remember Stephen Price?
Ridley Report
keep on keepin' on.
KingsCast/Chris Kaliszewski
good to see your work bro., CE (cutting edge) All the Way.
KCUTZ
good to see you on the 'Tube, you should try that track over the Riddley video at 5:00 with Nashua LE Attorney Brian Cullen, it's hot -- I just tried it bro.