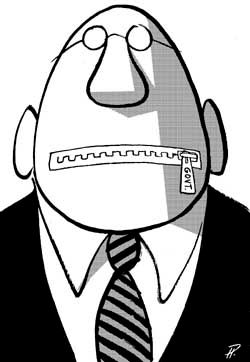 Update: Honorable Mention: Another hater wrote in to the Liko Kenney in the
pre-McKay era video
to say
"Learn how to construct a sentence... you are illiterate just like Liko."
Too bad it's
"Just AS Liko,"
you ignorant mouth breather.
Sorry......., imageshack has managed to purge many of my crucial documents but they missed a few, most notably the money page from Nashua City Attorney Bennett's opinion where he agreed with me so I didn't have to sue the City and the Un-Constitutional Viewpoint-based restrictions were tabled, or more accurately revoked.
See how ignorant, profane and misogynist the typical
KingCast
haters are? Yes, when you think about it, bitch is a misogynist word. Check the comment here in the
Rock On/David Essex post
. Might as well go ahead and call me
nigger, spear chucker, jungle bunny, jig, spook, o ya dumb fucking black ass bitch....
I'm used to it. This is America after all, the Home of the dumb-bunny jackass. And the home of government oppression against those who speak out in the post-911 atmosphere. Noted Civil Right lawyer Terry Gilbert told you all about that
back in January, 2006.
Anyway, here is my letter to the Committee as it goes to vote on SB 154 today, 6 April 2010:
Dear Public Works Committee members (and general public, even my haters):
I hope this note finds you in Good Spirits and welcoming in the springtime.
Buds are popping down here in MA.
As to Madame Chair, everyone knows I am the last person on Earth that someone should try to silence. You know my background and you know I pick my battles carefully as noted in the
Viewpoint-based discrimination post
, and EVERYONE with whom I shared the videos, from Republican to Independent, said State Rep Sorg and I were not treated fairly. And you know it's a limited open forum so any discussion reasonably related (i.e. previous 15-0 vote on the IDENTICAL issue +
Joe Gearty's non-road
) MUST be tolerated.

As you know, this did not happen.....(con't)