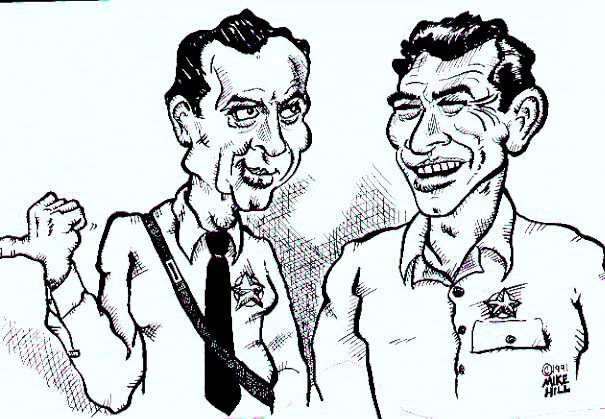 The actual RSA 91-A public records request is at the bottom of this post regarding
this ridiculous coverup:
Consider this first:
Officer Deadly Force Policy IV B(f):
"Ensure that guns are not opened, loaded, unloaded, shell casings removed, or in any other way tampered with…."
Now dammit how hard is that to remember? Was there a stammer somewhere up in there? Well apparently it is very hard for some LE in NH and in MA as we are about to see:
How NH AG's office covered up for LE who entered and remained on the premises of a private credit union in the wee hours of the morning of 1 May 2008 and conducted "training exercises" there without any authorization, and with loaded guns, causing a cop to get shot. If you are a civilian and accidentally shoot your friend in New Hampshire, you're getting charged. See 17 Dec. 2009
Nashua Telegraph story
about the Millford Charges against Derrick Shippee.
Reckless Conduct, Class B felony every day.
Similarly,
in Londonderry Andrew Dadian was charged
in the November, 2009 accidental shooting of his brother even though the police say it appeared accidental.
Reckless Conduct, Class B felony every day.
Anyway, the Officer in charge (Sergeant Steven Smagula) who has had "extensive training" (AG Official Report p. 13) -- and who should be held to a higher standard than some kids in a car -- picked up the damn shell casing before any photographs were taken of the potential crime scene (AG Official Report pp 6, 7, 8), thereby destroying the integrity of the investigative process.
Sound familiar?
Well that's because some LE in the Revere Dan Talbot murder trial 99.9% assuredly picked up a spent Glock 22 .40 cal casing and placed it atop a Gatorade bottle, which appears 100% unscathed by the heat that would have partially melted it had the casing really landed directly on it.
The pictures and video don't lie -- but some LE might have.
Cracks me up, there is some tool named "Quiet Man" a/k/a Chief Jay Strongbow (Strongblow) who says on Topix that I seem to think I can do whatever I want to do.Well that's not true, but if it were true, it would be because I learned it from NH and MA LE like Revere's William Soto -- even picking up guns and spiriting them away from crime scenes despite explicit warning from former LE and current Homeland Security personnel.
Watch the trial video,
it don't lie -- but some LE might have.
And listen to Attorney Krupp's closing argument in the
first two videos on this post
. An argument could be made that William Soto should be fired for his post-shooting actions (carrying guns away from the scene and possibly placing casings wherever he wants to, destroying the integrity of a crime scene) in addition to drinking while driving, drinking in public, drinking in public with his firearm, etc. etc.
Anyway, I know the NH AG's office is claiming they won't show the diagrams to the public because of a privacy issue, citing
Lodge v. Knowlton
118 NH 574
(1978), but that's complete rubbish and I will sue over it. Read the comments to see the relevant criteria that drawings or photographs of the crime scene do not meet.
UPDATE:
A KingCast Affiliate has provided
Professional Firefighters of NH v. Local Gov't Center
2009-215 (29 Jan 2010)
, holding that salary information is not private. If salary information is not private, surely crime scene photographs of a bank -- not showing anyone's family or morgue picures -- are not private, either.
-The KingCaster
. I'm just sayin'..... ask WBZ's Karen Anderson, she wrote about this case and we discussed it, she knows it's BS too. Read her story right here in my
4 May 2008 post
-- in which I also presciently called for Revere Sergeant Evan Franklin's termination, that's why they call me Negrodamus.
Pictured:
Anderson, Your Humble Narrator, Slim Shady.
Not intoxicated this time.
Concord,_NH_Cops_shoot_each_other_but_no_charges_filed.