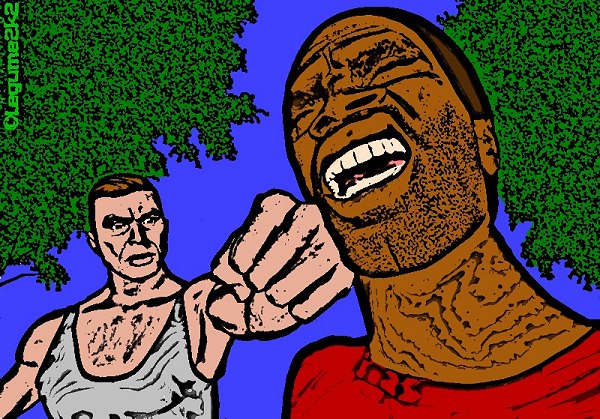 Honestly, what's it going to be folks? Stop your racial violence and your set-trippin' and start uniting against oppression, which knows no color. Damn people, THINK!
One of my readers (an alumnus of a very highly-esteemed school in the Eastern Seabord) pulled my coat tail to this case, in which two white youth with multiple criminal backgrounds and known substance abuse issues got off easy for starting a fight. Meanwhile the black UMass student who defended himself with a pocket knife after getting his nose broken is being charged with assault with a deadly weapon & facing 30 years in prison. Vassell has no known criminal record, zip, zero zilch.
Here is an excerpt from 8 October 2009 story from Smith College:
As recounted by two witnesses in Vassell's room on the night of the altercation, John Bowes and Jonathan Bosse had been shouting racial slurs at Vassell and soon after broke his window. Vassell fled his room and called two friends for support, in addition to notifying Campus Security. The attackers forced entry into the dorm lobby and punched him numerous times, eventually giving Vassell a concussion.

Vassell's defense has attempted to show through video camera footage and testimony by numerous witnesses that he had told his attackers he did not want to fight them, but after being hit was forced to use a pocketknife in self-defense.
The prosecutor soft-pedaled a broken nose clearly motivated out of racial animus into a disorderly conduct conviction against Bose, while Bosse wasn't even charged.
Thing is, however, the victim Jason Vassell has now secured the right to review prior related cases for symptoms of racial bias in terms of prosecutorial discretion. See the
Daily Hampshire Gazette story
of 3 March, 2009.
READ THE VASSSELL MOTION TO DISMMISS HERE.
PS
: Before folks come and start accusing me of race hating, I don't tolerate racial insensitivity from anybody, read this post on
Yick Wo v. Hopkins
and
this post on Caucasian & Jewish
, and
this post to see me called a spear-chucker.
Then read
this post about a bad cop named Marty Dunn
, who failed to make blacks feel safe in Jaffrey, NH. He got fired (and his prosecutor Bill Albrecht got run out of town under an ethics investigation) and former NH AG John Arnold, acting as Chesire County Judge, affirmed the Decision. Hope you enjoy the
KingCast
corporate logo in this post, and most definitely read the comments.