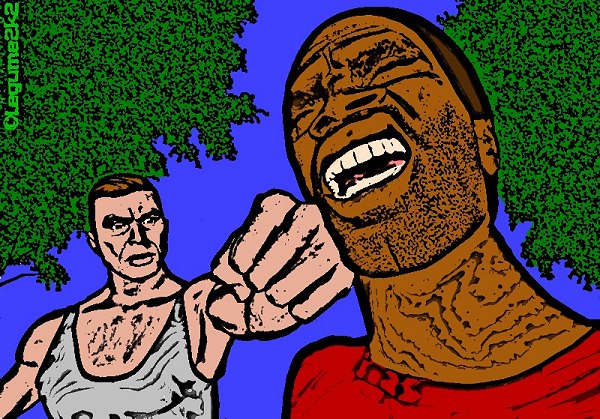 See:
justiceforjason.org.
Here's the teaser about
this horrific case:
"In today's KingCast cases segment Mr. King will address legislation designed to protect renters from unsafe living conditions and the UMass altercation in which two white non students harassed and attacked a black student in his own dorm building. One of the white men wasn't even charged with a crime, while the black student is facing up to 30 years for defending himself with a pocket knife."
I might add that today I verified with Jason Vassell's attorney David P. Hoose that:
a)
The State never even charged his assailants John Bose and Jonathan Bosse with malicious destruction of property (they broke his window from the outside before they rushed inside the door to attack him) or criminal trespass even though he did not invite them in and they were not UMass students. They were heavily drinking (probably drunk but alas not charged with public intox) and, unlike Vassell, they have criminal records;
b)
He agrees that this is a
Castle Doctrine
case that
never should have been brought in the first place.
Read MGL 278 8A here.
Jason Vassell was sitting at home, minding his business when two drunken, angry white men broke his window and then entered his building and hit him, breaking his nose. He counters with a pocket knife and now faces an assortment of charges that potentially total 30 years in prison.
Judge Carhart ordered several years of racial data released but the Prosecutor appealed that to the Supreme Court.
The Supreme Court demanded further findings.
I have a call pending to District Attorney Scheibel's office; she is attending meetings in Boston today so I will post up when she returns my call.
*********
Folks, Racism is not part of the Franconia shooting tragedy
(YouTube video)
, in my estimation. Similarly, racism is not part of the abuses sustained by the tenants in Gloucester who lived in that uninspected, unlawful building, prompting me to conceive S 8013 "Robert Taylor's Law" legislation
(YouTube video)
forwarded by Bruce Tarr (r).
But racism sure is at play here. Lieutenant Thrasher (his real name) opined of Vassell on the night in question
"I think he is a drug dealer... you gonna get a story out of this asshole... what does this donkey say?"
but at least Sergeant Moore was rational enough to say
"There's more to this.... There's a hate crime involved."
In any event, Jason Vassell was not a drug dealer, he was a tutor and community volunteer.
It will be interesting to see the election challenge for County DA, with the Republican racist incumbent (in my opinion)
Elizabeth "Betsy" Scheibel,
facing a challenge from Hampshire County Probate Chief
David E. Sullivan
, a staunch supporter of President Barack Obama -- who will be in Boston on Friday. I'll say this: If the situation were reversed and two black men did what these white men did they would have both been vigorously charged and prosecuted to the fullest extent of the law, and had the book thrown at them.
KingCast
and
TOUCH 106.1 FM
: We'll tell you what mass media won't.