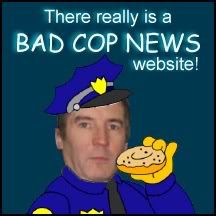 Hahahaaa... Marty thought he got all of his nefarious deeds scrubbed from the Internet, but in the end -- and as it was meant to be -- his own brethren
turned him in.
THE RP03-27-2006, 14:19
Goddamn despicable.....Not only on the coworkers behalf but lets not forget the slime bag chief who feels it's necessary to charge him....This is one of the undeniable downfalls to being a cop or just driving through some parts of New Hampshire...NO Tradition and NO shame.
KingCast says that's not all.... they rejected him in Winchendon, Mass, too!
OciferpeteHPD350003-28-2006, 17:09
Oh boy looks like he's coming to mass!!

Jaffrey police Chief flees under hail of controversy.

Jaffrey NH Police Chief Martin Dunn last month notified a select group of media that he is a finalist for a post in Winchendon, Mass. [The properly rejected him on further review]
Here's an hootlarious parody of my meeting with Marty.
Jammin' out:
Devo sings a song for Marty.
PS:
I've downloaded the page. Gotta' love it.