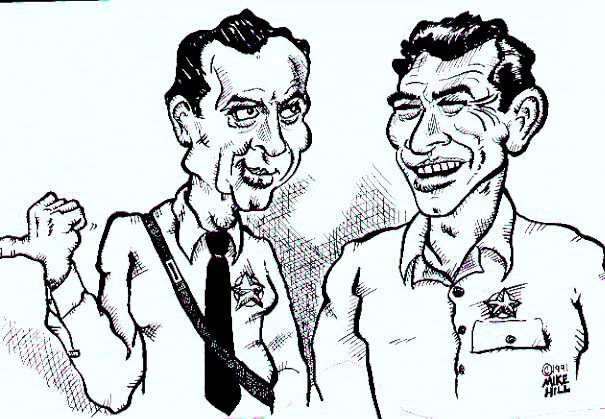 This is lovely. Obviously Bruce McKay fired his gun according to Kelly Ayotte's version of the "facts" so therefore his clothing, and that of Liko Kenney's is relevant per former NH AG Peter Heed's
AG "Officer Deadly Force Protocol" Section IV Policy E(9)(e),
as noted yesterday.
Dig this:
8.
The Department does have certain items of clothing into evidence, however, physical evidence is not subject to the Right to Know law.
9.
Please see response in 5 above.
10.
The Department does not have any documents responsive to this request.
So they have clothing that they won't give up, even for custodial chain of custody evaluation, yet they conducted no tests of said clothing. That's Barney Fife to the maximum. Actually it's worse than that because it is a planned coverup as opposed to mere incompetence, but hey I wanted to use today's art. Also, see
Playboy Enterprises, Inc. v. U.S. Customs Service
, 959 F.Supp. 11 (D.D.C., 1997) for the proposition that the U.S. House should order testing of these items of clothing before they are destroyed. It's in the comments.
Anyway, view the full requests and responses
here,
and in the comments to see that item 10 of course is the KingCast request for
"A copy of any and all of your investigative files or toxicology reports in which the clothing of Liko Kenney or Bruce McKay was analysed in any way."
As to the Paulhus case, in which the civil and criminal cases were settled more than a year ago (
Nashua Telegraph
), I reckon that will remain "open" for the next 100 years or so. It's ludicrous, so at oral argument I'll note it for the record and at a minimum Kelly and her minions will have to tell the court approximately when they think they might be done "investigating." In reality they never investigated anything, just destroyed all of the evidence as noted by forensic specialist's
Paul Erwin Kish report,
and failed to conduct any trajectory analysis just as with the windshield bullet in Liko Kenney's Supra.
Not to mention the
adjudicated Miranda violations,
with Nashua LE posing as AG office representatives, apparently without a shred of disciplinary repercussions from Kelly. That's because Kelly's Keystone Kops can violate Miranda
with impunity.