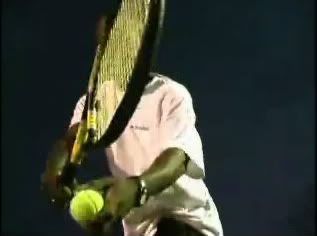 Okay, so it wasn't Michael Chang, it was this local cat David Chang from NYC who runs a photo sharing company. But fall tennis is just about the most fun you can have with your clothes on. From local media coverage:
"Swirling winds and lack of proper training kept the two former champions just a bit off key on Saturday, but the two still showed traces of their former glory, with Blackenroe prevailing amidst a torrent of blistering inside-out serves to ad court and a piercing sliced backhand reminiscent of the Rocket Rod Laver....."
LOL. Here's an
interesting take
on Michael Chang from Huan Hsu, a Chinese tennis player of a certain age.
Later the girly-girl and I watched "The Graduate." As I have not watched that movie since I was in grade school, I was fully able to appreciate its subtleties, one of which is the director's ability to stay in frame for extremely long periods without a cut. And from the moment Dustin Hoffman gets on the people mover at LAX you realize that he resemble Tom Cruise something fierce (or vice versa), which makes you put "Rainman" in the proper context. The film's anti-establishment edge is a blast to boot. Like Rainman, the Quadrifoglio is an '88 feature also, and one I considered buying in 2000 before I realized I was moving away from my roomie and master Alfisti
Lajos Silberstein.
If you don't know old Alfas or have a good mechanic you don't buy old Alfas, it's that simple.