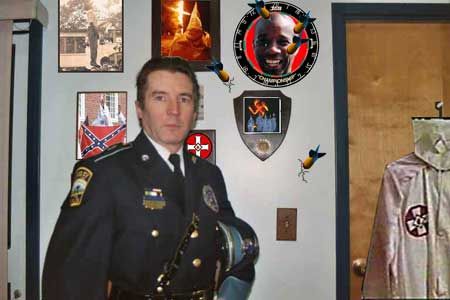 Kelly Ayotte's buddy (read the Ayotte/Dunn
press release
against Officer DeBoisbriand;
acquitted
) in an hour) now-fired Jaffrey Chief Dunn laughed at the prospect of me being gang-raped in jail (read the
transcript
and here is
the letter
"You 'bout to be Bubba's bitch. Better get dat vasoline ready. Ha-ha-ha."
).
Nah, dude, sorry to bust your First Amendment cherry, but I did not go to jail, I'm still exit-only and in fact I did not even stand trial although I was ready, willing and able and sat through voir dire. Then you and your dirtbag prosecutor, Bill Albrecht ran away like puppies that peed themselves. Albrecht ran away again when those
ethics complaints
hit him, and then you got fired. Dismissal
sustained
by former NH AG John P. Arnold, who can't stand me either, so ha-ha-ha to
that.
Related posts:
Marty Dunn
and
Kelly Ayotte
profiles in American Justice.
Haters.