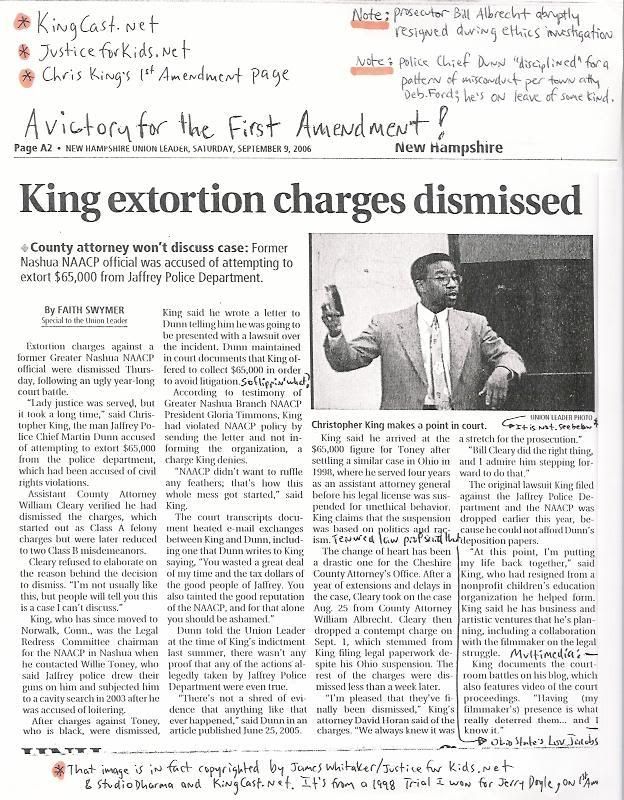 Some tool keeps rolling up in here, stuck to the bottom of my Cole-Haans like a piece of rotted dog poop to bring up Nashua Telegraph story about the bogus indictment against me when I was NAACP Legal Chair. So for the newbies I figure I'll recap that event with the story from the Union Leader and note that the same Telegraph reporter, Al McKeon, followed up with Alderman Teeboom and me in another story about Civil Liberties and the First Amendment. He-heh. This is my comment from
yesterday's post,
noting that one of Casey Sherman's old friends is also a good friend of mine who brought my snowboarding to a new level.
Mr. Sherman
-- a critically-acclaimed writer -- is writing a 2009 book about the Franconia shooting tragedy.
*********
Hahahaha............ let's see what Al McKeon wrote next about me
in this Nashua Telegraph feature.
(Thanks for reminding me you stupid douchebag.)

"Dissent is not what it used to be," Teeboom said Tuesday in an hour-long interview at City Hall. King sat to his right at a meeting room table, and the pair discussed the First Amendment with an ease that suggested they've worked together for years.

"We made it possible for other people to come forward," King said Tuesday, a day after the board overturned the policy. "We protected the rights of people who didn't know they needed protecting."

To Teeboom, 68, and King, 41, their advocacy represented another fight in the larger war to win back liberties they say have sharply eroded over the years, particularly after the terrorist attacks of Sept. 11, 2001.
Related posts:

KingCast goes from Douchebag to Darling.
Alderman Teeboom and the KingCaster share a laugh.