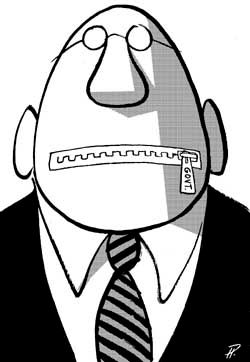 Enough about
Judge Somma
. Let's get back to things like the Civil Rights of people in
Franconia/North Country
and on the Streets of Boston. KingCast says this is a no-brainer:
Milan Kohout
was a proactive force in liberating the Czech Republic in the bloodless "Velvet Revolution," as noted by Czech U.N. Ambassador Martin Palous, appearing in Artist Kohout's experimental artists class at Tufts University.
According to Palous
, part of the underground culture included "philosophical lectures and debates." The totalitarian regime tried to suppress these activities, Palous said.
Spot the difference, then,
between that regime and Boston: Artist Kohout was using Nooses to protest unscrupulous and predatory lending policies as Democratic Presidential Candidate Barack Obama is discussing, as noted
in this post
. The Nooses were clearly not "For Sale" (do you SEE a cash register?) but were a metaphoric representation of the situation mortgagors are finding themselves in. Having closed a couple of hundred residential loans myself in 2004-2005, I understand his anger. Somehow, and for some reason, the Boston Pee Dee took his signs, and charged him with Transient Vendor Unlicensed c101 : 008 -- an antiquated law, applied in an Unconstitutional manner as you can see in the legal commentary in the comments.
See
Dunigan Enterprises, Inc. v. District Attorney for North
..., 11 Mass. App. Ct. 254 (1981), holding that a Federal Court may enjoin law enforcement authorities from pursuing "a deliberate pattern and practice of constitutional violations" (Lewis v. Kugler, 446 F.2d at 1350), and from enforcing a constitutional statute in an unconstitutional way.
There is a press conference about this matter scheduled for 9:00 a.m. Friday, 22 February 2008
at the McCormack Building
Room 403, One Ashburton Place, Boston. Reporters to the courtroom are welcome and I wouldn't miss it for the World.
KingCast says you can "threaten" to call a press conference about whatever you want to talk about. I taught a few people in Law Enforcement, including NH AG Kelly Ayotte all about that as noted in the
short video
:
"Arraignment Press Conference,"
and indeed went on to win my case as should Artist Kohout. But I don't watch that video often because it still sends chills up my spine to know that someone in government hated my message so much that they would try to pull that crap. Same thing here.
********
Mobius
is an International constellation of artists that appears poised to exhibit strength through its membership. Mr. Kohout's press release and more case law is in the comments.
Nothing new for KingCast
; I was covering Unconstitutional application of laws twenty (20) years ago in Cincinnati, with Robert Mapplethorpe and Dennis Barrie at the Contemporary Art Center, as noted
in this post
. I love black and white, and in fact was just sharing my favorite picture, and likely the "best" picture I'll ever take with a friend of mine the other day: