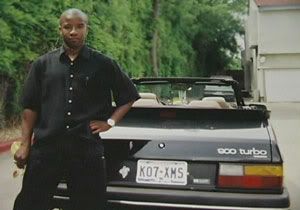 You bet that's a Texas plate next to the Michelin Man on SAAB #4. Texans are largely a no BS sorta' folk (Barbara Jordan, Ann Richards RIP), so when I met 3 Texas folk today here on business and looking at motorcycles we later threw down for a while over a cold bevy and they learned a lot about NH AG Kelly Ayotte. Predictably she has now run from her Deposition, the same way she never gave any interviews when she handed out the press packs on the Franconia shooting tragedy. As a journalist since 1988 and former AAG I found that VERY strange, yes indeed. I'll be taking Monday off from work to respond and to file my Memorandum Contra her Motion to Dismiss, and to prepare a Motion for Partial Summary Judgment for KingCast.
Meanwhile the CIA is facing scrutiny over tape destruction, and the
same thing
has happened in New Hampshire.... or the government is lying about the tapes'whereabouts. The quote of the day in the Nashua Telegraph concerns Rosemary Woods, whose picture I just used to point out that Franconia has destroyed and/or lied about OC Spray video of Bruce McKay going wild on a 110lb girl as noted in the short film
"Franconia 5/11: Injustice On Stilts"
(scroll down). Senator Kennedy said:
"We haven't seen anything like this since the 8 1/2 minute gap in the tapes of Prresident Richard Nixon."
Welcome to New Hampshire, Ted. Liko Kenney you did not die in vain; your plight, and that of other abused Franconians will be told at a certain International Film Festival next year, that much is All Set.
Namaste.