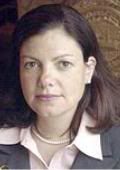 Two months before Liko Kenney and Bruce McKay died, I wrote the
letter
at left that clearly raised First Amendment concerns on a FOIA/RSA 91-A Right-to-Know issue involving public schools and the right to petition the government for redress. The New Hampshire School Boards Association (
NHSBA
) is behind this unlawful restriction. But read her response (
one
/
two
) that fails to even mention the First Amendment. Slick, huh? Not really. She's a tool, totally.
Here's the
original post
and
here she is
lying about complaints against Corporal Bruce McKay, relative to the Franconia shooting tragedy, which spawned
this litigation
, KingCast v. NH AG Kelly Ayotte et al., Grafton 07-E-268.
FWIW Alderman Teeboom and I were correct, and Nashua City Attorney Stephen Bennett authored a 5-page opinion in support before the policy was
officially changed
.
And of course
she lost
Ayotte v. Planned Parenthood
, 546 U.S. 320 (2006) -- and of course that involves a woman's Right to Privacy..... which is penumbral to the First Amendment.
KingCast: Supporting the First Amendment, the Right-to-Know and the Fourth Estate since 1988: