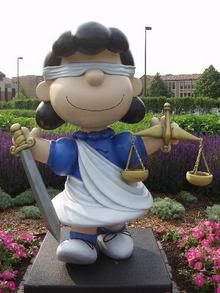 It's a tale of two Lucys, but you newbies
read this first
.
Dear Attorney Modigliani:
Thank you for your follow up letter to me dated 19 October 2007 in which you note that you had to leave for your appointment around 2:00 p.m. as we hastily ascertained which documents I requested. Said letter was accompanied by a receipt for $14.00 for the 14 pages you copied for me relating to the Franconia shooting tragedy, as I noted to you on several occasions that I had heard rumors about these documents that were never produced by NH AG Kelly Ayotte, the chief law enforcement officer of New Hampshire, in her investigative files of the Franconia shooting tragedy.
The lawsuit
.
The short film
.
The community outcry
.
You wrote that you
"trust that [I] found [I] have all the documents [I] requested photocopied,"
and I did, but only to the extent that I only had $20 with me at the time and noted to you that I was astounded at the per page copy cost, as I made copious notes on the other pages I will retrieve from you soon. Copy costs are at issue in the pending
Right-to-Know litigation
, incidentally but that's another matter.
Be that as it may, I appreciate your hospitality as noted by the fact that I didn't make a Big Deal out of your office's late response to my RSA 91-A request, nor did I make a big deal out of the fact that after I called you on my way back from another Concord appointment that I had to wait in your antechamber almost an hour to view the documents -- even though I stopped in prior to the appointment 2 hours earlier to advise that I would return for them.
It's All Good.
And you know it all comes down to what you offered Attorney Ayotte, versus what she offered to the World Public. For what it's worth, I think your office provided everything I saw. What got lost in translation, well....... Kelly will certainly have to
explain that
.
Meanwhile, she has
yet to explain
where the 2006 Right-to-Know Commission report is, even though she or her designee is on the commission. The Commission was created to address another issue pertaining to production of government emails, which is at issue in the pending
Right-to-Know litigation
, incidentally but that's another matter.
Her response appears to be tardy but I'll give it another day or so. After all, we've got
plenty of time
for that and for Depositions before the Oral Argument scheduled for 10 January, 2008. Then she'll have some serious 'splainin' to do, Marta.