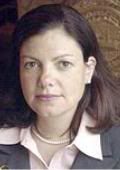 Okay, we know that NH AGs have a hard time keeping office lately, with Jaffery Chief Dunn's buddy Peter Heed taking a header for copping a feel during a sexual harrassment seminar. But that's really nothing compared to the orchestrated and intentional cover up of the relevant background and current facts regarding the tragedy of Franconia 5/11.
I've got to get back to my
RSA 91-A Motion
for Declaratory Jugdment after a long weekend of learning here in Franconia, but the reason I've never posted about Attorney Gonzalez and his lies and deception is because I wanted to wait to see him finish his
fall from grace
(CNN video) before I compared it to Kelly's which may well happen yet. Here is Attorney Alia Malek's
warning
about Attorney Gonzales, written 14 Jan 2005.
Now review my warning about Attorney Ayotte as you take a look at Friday's
open letter
from KingCast to the NH Senators and the Judiciary Committee House Reps and see that there is plenty of disgrace for Kelly too. I sent it to U.S. Senator Pat Leahy as noted in
this post
because I know that
he subpoenaed
the Gonzales emails in the unlawful firings of the 8 U.S. AAGs because he means business. As a former State AAG I am appalled at Gonzales.
Anyway, back to NH, we cannot forget the general lack of respect that Attorney Ayotte has shown the Franconia/Bethlehem area going on back to the asbestos
Casella waste debacle
.
I'll tell you what Kelly:
If your position were elected and if it were up to the people out near Franconia you could start packing your bags yesterday.