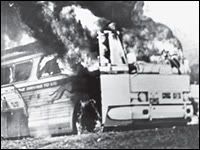 Now we get the community coming together; this is what I envisioned from the start, despite a few setbacks. The bus rolls forward because no matter our differences we ARE the new freedom riders. They had their differences as well, but in their hearts they were all coming from the right place. Now it might get hot on the bus. There's no air conditioning and we are driving it through a hostile area. But together with everyone contributing we will get to the promised land of truthful and open government.
Affidavit and RSA 91-A request of [Blankety-Blank] under Seal of Court
Relative to Interactions with Bruce McKay and Franconia Police Chief Mark Montminy
I, the undersigned, being first duly sworn and under threat of perjury, hereby solemn aver:
1. The purpose of this affidavit is for use by Christopher King, J.D. in KingCast v. NH AG Kelly Ayotte et al. in an RSA 91-A Right-to-Know lawsuit and I support that.
2. I have maintained a residence in the Franconia area for.......
3. Your comments of what you personally observed go here.
FURTHER AFFIANT SAYETH NAUGHT.
___________________________________
Name Address
_____________________________________
NOTARY PUBLIC
My Commission Expires:________________