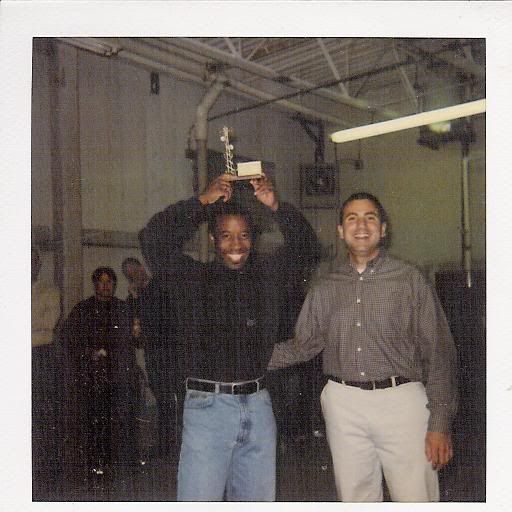 This is the site in question. Even though I won the second Employee of the Week award I'm not ashamed to say that American Tower is still doing its dirt
in this post
as I sent in from Franconia this weekend. Dee Schauer called me tonight to explain that ATC settled a first trespass on her property when they were digging holes but then returned with another guy and a lawyer named
Stephen Wren
doing local work for Baker Hostetler, who BTW has an
ugly website
. This second guy refused to give his name and she eventually filed a criminal complaint after a rookie cop initially took his word over the property owner.
Nobody EVER accused any telecommunications company for whom I worked for trespass, much less settled, but then again a company that would
renege on a promise
with Teresian monks will do anything for profit.
American Tower Corporation again violated Texas Law
91.005
(that's an American Bar Association comment from those of you who accuse me of being unethical) because their lease did not include the consent requirement that I have
warned about
on prior occasion. They put up Sprint, AT&T and others
without a single notice or consent letter.
Attorney
Crnilovic-Phillips
and I told them it was unethical behavior when we worked there and I will file an ethics complaint on them sooner than they can say WTF??
The complaining party asked me about my association with these Corporate,
back-dating
thugs and I said:
"They don't want to mess with me. We'll make another movie out of them and it's going to be bad news for them."
That means much worse than American Lawyer
Two
and
Three
because this time it's not about me. It's about a person who never even knew me, but who
does know
corporate abuse from 1,800 miles away.
To compound (that's industry talk, a play on words) matters ATC lied and said that there were emergencies that prompted the second trespass. Unbelievable but true; read the comments for the email chain. And Attorney Wren tried to keep her from having any guns on her property (this is Texas, mind you). He said "I'll tread on your Constitutional Rights anytime I want to."
She has witnesses ready to write an affidavit on that.
Dear ATC:
I recommend you settle with Dee on the new complaint at a reasonable sum or I will do my level best to make your life the living hell that you made mine after I
correctly
requested overtime pay for my trainees.
Related post:
Look what their scumbag area attorney and former Mass Bar Association President Richard C. Van Nostrand
tried to do
to keep their name off of this blawg. After the Blogger attorneys reviewed his lies on behalf of his client, I spanked him good and the content was restored.