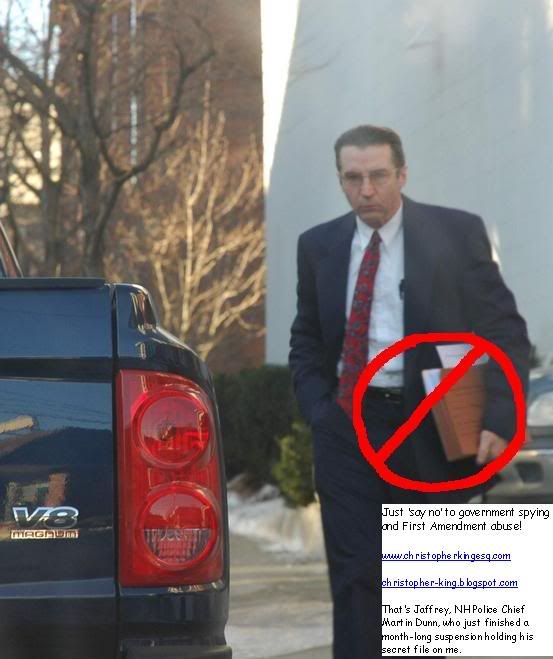 As this email indicates, there is substantial movement in this country toward transparent government, as noted in the
first post
where I set forth some of the developing law. Certainly the State's loss in the
Theodosopoulos
case one year ago in a slightly different context could be signaling a movement toward such transparency, with some attendant fairness and accountability so lacking in Franconia.
The entire email is in the comments section, but I end it with this:
This is not a State v. Laurie, 139 N.H. 325 (1995) case: This is a case in which the State has provided a plethora of negative information about the backgrounds of Liko Kenney, some information about the background of Gregory Floyd (although more should have been provided to the public which is Section II of the pending lawsuit) but absolutely nothing about Bruce McKay. Perhaps it might not be as large of an issue were it not for the scores of material discrepancies that I have delineated in this matter, and as referenced in an email to you yesterday morning from a Franconia citizen that will become part of the KingCast pleadings as a public record. Moreover, there is the fact that Attorney Ayotte was on Actual Notice of the Tim Stephenson complaint, which involved an improper threat of violence from McKay toward Mr. Stephenson.
**********
It seems like men like Chief Dunn can carry
secret files
on me going back 5 years or more ....but I can't get any information on them in their professional capacity and they carry weapons and the power to arrest?
Live Free or Die, right?
There's my lawyers chatting up another one of Kelly's buddies, Prosecutor Bill Albrecht. Let's listen in, shall we?
"Hey Bill"
"Whaddya want?"
"You're about to go out under an
ethics investigation
, fool."