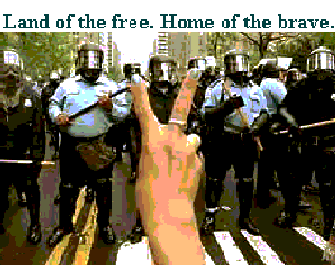 A certain area attorney, knowing full well I would post this, had this to say about Bruce McKay:
Mr. King:
"......Years later, I represented a young lady who was stopped, arrested, and subsequently maced in Franconia by McKay, trampling over the fourth amendment in the process as usual. I still have that video. It is appalling.
[Editor's note: Good. We're going to need that for our movie].
When we finally got to the hearing on that one, I came to terms with McKay regarding a plea. I got to the favorable plea by telling him that I absolutely thought that the judge needed to see how "lawful" the arrest was. He caved on the plea real fast. The guy was incapable of diffusing a spent matchstick, much less an actual traffic stop with a dangerous 110-pound blond woman.
Then, we're standing up in front of the judge, about a half-hour later, McKay tells him we've entered into a plea that was far worse than the one we negotiated! Worse, he'd already drawn up the revised complaint and submitted it to the Court for approval without me seeing it....."
Read the comments for the full email.
We're going to take the power back in this country from legal pirates like McKay and those who protect him; that's why Franconia 5/11 is such a powerful enterprise. This has been brewing way before Liko and I hit the scene; we're just the messengers who get shot, or get our websites attacked. Seven times,
look it up
.