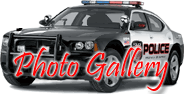 This is a pretty cool
video
from 2002 that shows a golf cart wind its way southbound all the way through the Big Dig.
That must have been the artistic impetus for the Massachusetts police officers who erected a coupla' driving ranges with taxpayer time and money in the ventilation shafts according to today's Boston Globe
story
.
As noted in this
post
, as to what some Masscops motivations were in calling the NAACP the "Association of Asshole-Colored People" was -- while being ignorant enough to think that "blawg" was urban street slang as opposed to being a construct of the well-educated white male society, I can't tell you.