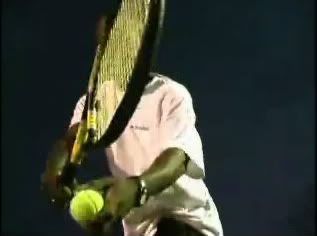 As noted in my
first post
on this tragedy, I almost attended
Tamarack Tennis Camp
in 2005 but for that ridiculous indictment against me as NAACP legal chair, brought by a subsequently-fired police chief who wanted to cover up the issue of police abuse for those three service pistols that were drawn on Willie Toney out in Jaffrey, NH. Before he got a visual body cavity search for no substantiated reason, mind you. Police reports
here
.
As noted in this short
Internet blurb
, memorial services were held for Liko Kenney at the camp yesterday where he grew up, and a primary concern was
"work[ing] to ensure the tragedy doesn't repeat itself."
Frankly, I doubt something like that will ever happen again, and I mourn for everyone involved,
but for good measure
I think we need to think about the issues I raised in this
post
entitled "Did Officer McKay ever call for backup in the Franconia tragedy?"
Meanwhile I've found an NTRP 4.0 and 6.0 to hit with -- the 6.0 used to play folks like McEnroe (dig this year's seniors' tour pics from Boston
here
) in college so that's definitely more of a lesson for me -- and I'll be working on my forehand, keeping low, keeping head steady, good racket head speed through the ball and all of that. When I move to California this summer my tennis game will again become a priority because it's just such a wonderful game. My backhand is a beautiful stroke, my serve is above-average for a 4.0-4.5 (there's a 3/4 pace serve in
KingCast
video "Live Revolution") and now comes the time to become a more complete player; enjoy this game for the rest of my life and of course kick more peoples' butts before that post-match beer :)
Rest in Peace, Liko.