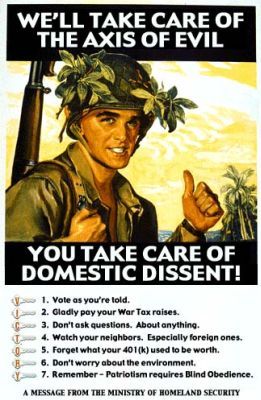 The following are not my words but I encourage an explication relative thereto:
First of all,
no one can honestly say I don't respect responsible law enforcement after reading my Michael Briggs (RIP)
post
, which contains my well-received Daily Kos "9/11 and the negative space"
diary entry
:
Second,
terminating the investigation after 48 hours is nonsense and as a 4-year Assistant Attorney General I stand by that comment for the rest of my life. Given Mr. Floyd's background (not to mention the allegations I've heard regarding Corporal McKay) the State
never
should have shut an investigation down so fast. Here's a comment from my Wrongful Death post:
*******
Why is Mckay walking away, behind Kenny's car after pepper spraying Kenney & passanger?
Why does Mckay turn his back on people he just pepper sprayed?
Why are there no statements from passanger being released?
How does Floyd know Kenny was reloading weapon if Kenny is sitting in vehicle? (Was he holding the gun above the window and not in his lap???)
If Kenny ran over McKay after he shot him, why did he stop to reload? Why did he stop at all? Why did he not drive away when somebody pulled a gun on him?
How can Floyd shoot the driver of the vehicle without it being reckless to the passenger? Not only could he miss or the car move but the bullets could go through one body into the other of an innocent person. It cannot be considered self defense if you can walk away from the situation ..
Floyd's past clearly demonstrates he is not sound to act as a police officer and risk [the] life of innocent people.
In no way am I saying Floyd should go to jail but I am saying that an
actual investigation
should take place and not declare everything over and job well done within days of the incident. Especially when things just don't sound right and there [are] questionable pasts to all the players involved.
*****
That's it for now; I'm getting back to some issues a film festival and a movie about the First Amendment. Here are all of the
related posts
PS:
Image Shack took the cop sketch off line saying that it "violated the terms of my service agreement." Why? How? Later with their noise; I hosted it this time with Blogger, who knows what to do (read the American Tower corp.
link
) when the Man tried to eviscerate First Amendment Rights on this blawg, just one of seven (7) attempts to silence me.