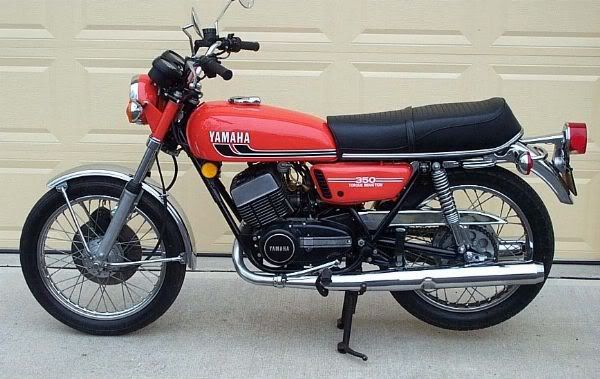 Mark and Dawn, this story's for you:
1. The 1975
Yamaha RD350.
I bought mine, just like this one with 3K miles on it when a military brat sucker-punched me over a girl in last year of high school. That would be a civil assault since he was 6'1" 190 and I was 5'9" 145 then. Not much more now. Thanks, Andre, funny thing is she and I were just friends, anyway :) But she
did
have some nice friends..... Those were the Jerry Springer days when I was bartender at Sudsy Malones in undergrad. Too funny hanging with Jerry, but not as funny as when I dropped the clutch on that puppy on a 3-2 downshift near redline. Almost wore it like a hat. As a hat???
Wnnnnddddttt..... tat-tat-tat.... Wnnnnddddtt... tat-tat-tat.....Waaaaa, waaaaa....... (visualize blue lights and sirens but no mace as used in the Franconia Notch
shooting tragedy
).
2. The 1986
Suzuki GS 550ES
. No sucker punch, just a nice family. And a 12.37 quarter.
3. The 1983
VW GTi
. No-brainer. If I find one in Cali I'm having it.
4. The 1972-'74
BMW 2002tii
. Same no-brainer, but the 'Dub will be cheaper.
Any other suggestions? I know Alfas are sweet but I've never owned one and to me it's not quite so much engine with them but the whole dynamic. Ditto the Porsche 914 and 944 (you can keep the 924, thank you). The list above all are decent chassis, but the engines alone all took your breath away in their respective eras. Now an engine takes your breath away with 500hp in a BMW M5, but it will take you straight to prison as well. Quickly.