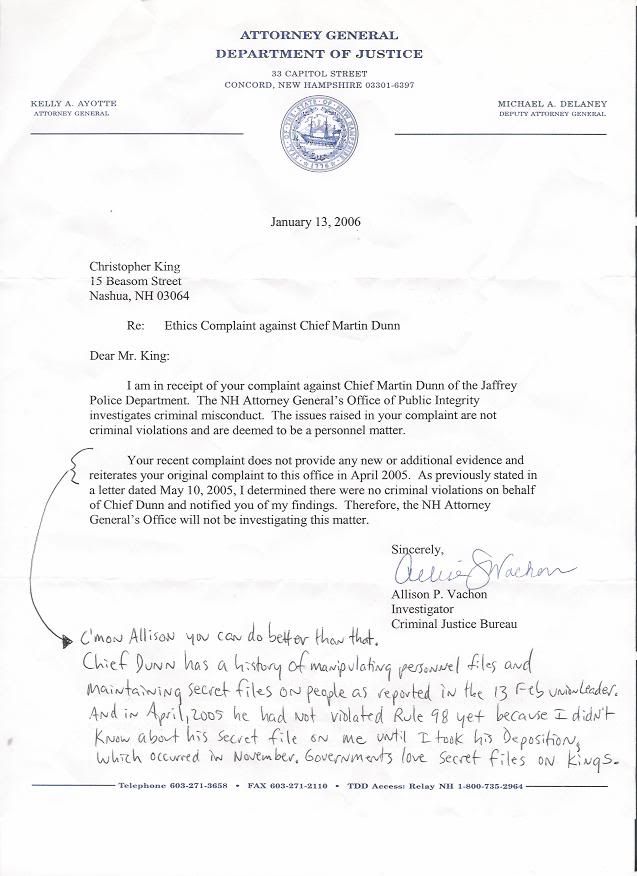 Today my housemate slid an envelope containing this 25 May 2007
letter
from NH AG Homicide Unit Chief Jeffery A. Strelzin across the table for my review. Pursuant to
RSA 91 A:4 IV
he has requested I chill my wheels for 14 days while they decide whether they will comply with my request for the police video of the Franconia Notch shooting tragedy. I might. Read the 31 May 2007
deadline post
; I hope their office finds
my letter
to them and the arguments contained therein -- some of them made by Attorney Ayotte herself -- instructive and I will telephone Attorney Strelzin this afternoon. Watch the comments.
When I showed the letter to my bank teller today she said
"What? They want 14 days to review your request but it only took them 2 to close the criminal investigation?"
I rocked back on my
skates
and just looked at her, blankly. Funny how non-lawyers can cut to the chase quicker than we can sometimes. I love it.
I also note that the letter references only Officer McKay's "murder" but says nothing of the possible murder of Liko Kenney.
I'm not down with that, given Shooter Floyd's
criminal background
, threatening cops with gunfire and grabbing groin.
The next
two
/
letters
are from the AG's office concerning my request to have them look into the antics of now-fired Jaffrey Chief Dunn (read
para. 2
). I do
not
hate to say "Told you so." That lying-assed cop tried to ruin my life. As you can see, that went nowhere, and they never even sent me a letter when I informed them of the wire fraud issue where my name was clearly forged to a mortgage and faxed for funding (
1
/
2
)
So that's the bad side. On the Good Side, As noted in the letter I know we agree on the
data mining case
and most likely on the NHSBA school board speech issue as noted in the deadline post,
supra
.
Two men are dead. Two men who had a lot to give to the community. Their souls, and the soul of Franconia Notch will need explication of the facts in order for that to happen, and that is why I am accepting
this invite
to roll up there in the next several days.