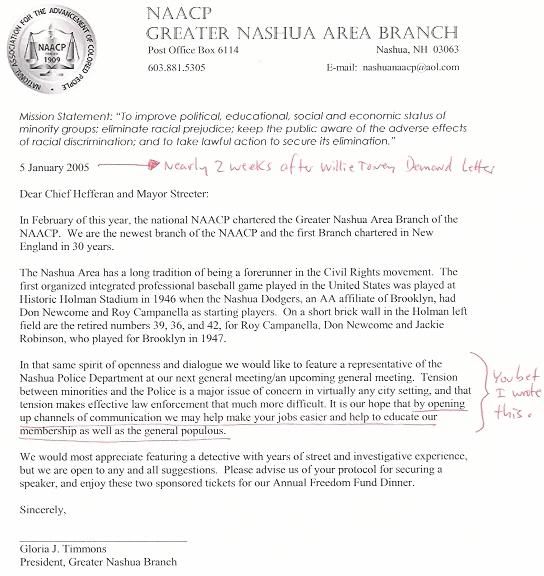 Obviously, as my earlier
post
on this tragedy indicates, police/citizen tensions are hardly limited to tensions between minorities and white police officers, although that was the focus of this
letter
I wrote to Nashua Chief Hefferan. Sadly, the Franconia situation was a powder keg that should have been addressed a long time ago.
Get out of New Hampshire and read this NYTimes
story
Then consider this comment to the original post, which indirectly addresses the friction/broken jaw/coma issue raised by Mr. Kenney (and other area residents) on prior occasion:
"A closer look needs to be taken in the case of the death of both Liko Kenney and Bruce McKay. The young Kenney boy is not the only person this officer singled out and relentlessly harassed. He is being made out to be a hero and he most certainly is not. I am not saying he deserved to die by any means but this was far more than a routine traffic stop. McKay had increased his harassment of the Kenney boy in recent weeks as many people know......"
And another comment:
"I did just read about your prior case but am very tired and not sure I understood it all. I cannot sleep due to my anger and sorrow over this tragedy that need not have happened.
The Kenney/Miller family have never been notified of Liko's death or the circumstances involving it. They do not even know where his body is. The Police Department has made absolutely no contact with them whatsoever.
You would love the camp and all the people that come with it. It is an eclectic and interesting family - good hearted. "
And then yet another comment on the original post:
"Isn't it interesting (disturbing)how quickly the state of New Hampshire decided not to press any charges against the vigilante that murdered Liko. Rumors abound here in Franconia. So why has there been no statement released from Caleb who was a passenger in Liko's car and an obvious witness to this entire tradgedy. There has been hardly a mention of him in any media. From what I've "heard" his story didn't quite fit the "routine traffic stop" senerio. Nor did it corroborate the vigilante's story of the events...... Sounds like; a dead cop is a license to kill anyone in the vicinity. I just hope Liko's family files a wrongful death suit in civil court against this a-hole. Not for the money, FOR THE TRUTH!!!"
*************
As someone who has been on both "sides" of the law enforcement community I have some of the same concerns.