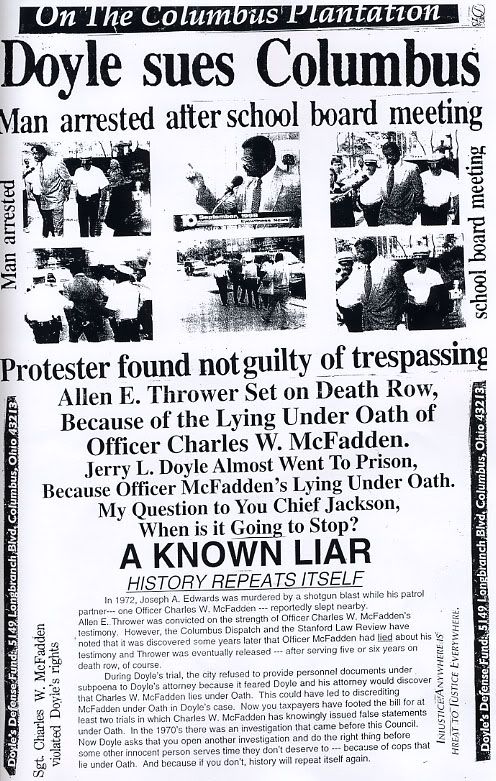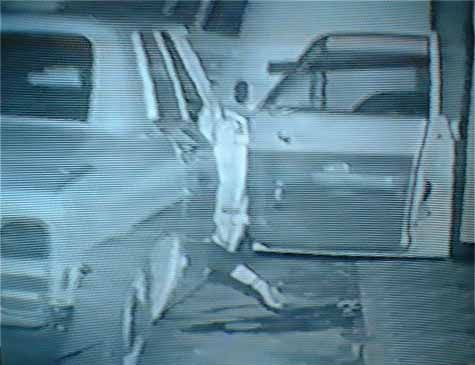 To be clear, relative to this morning's post involving police protocol on an escalated traffic stop, I'm not hating on Officer McKay relative to the Franconia shooting tragedy involving Shooter Floyd, in which Officer McKay and Liko Kenney lost their lives. But I will hate on a cop like Charles W. McFadden, whose partner got his brains blown clean out while McFadden slept or ate a donut -- only for McFadden to lie about it and make an innocent man named Allan E. Thrower sit on Death Row/life imprisonment (Ohio had an on/off Death Penalty statute) until he was exonerated by Northwestern Medill Journalism students and attorneys.
But when I sought McFadden's disciplinary records regarding his candor in office for one of Jerry Doyle's cases, they refused to provide them and the Columbus courts protected that bastard; indeed kept him on staff.
Watch him harrass Mr. Doyle and me at the speakers' podium while School Board member Loretta Heard notes that such conduct is
a slap in the face to this community....
....which is all the more incredible when one considers that they (nit)wittingly used a cop with a history of lying in an attempt to restrict the First Amendment. Some Government officials don't care about the First Amendment -- even loathe the public discourse that it brings -- and that's a fact, Jack.
The Nashua, NH School Board was much more professional and in turn recognized my professionalism in addressing an identical issue almost a decade later, and guess what? I haven't substantially changed my tone or rhetoric from age 34 to 42, so maybe I'm not the Bad Guy Columbus made me to be.
Good thing they lost; I grilled McFadden's ass good (still captured in video :) in Jerry's bogus criminal trial for trespassing at the school board; that's why in KingCast video "American Lawyer I" Minister Donell Muhammad from Columbus Mosque #43 calls me "The Johnny Cochran of Columbus." I smile and look on, kind of sheepishly because I couldn't believe the entire fiasco of what Mr. Doyle and I went through to win that case. That's why Mr. Isreal sings negro spirituals in the hallway after Prosecutor Rob Tobias refused to shake my hand. Nice.
BTW you can ask Prosecutor Bill Hedrick about it, 'cos my ex-fiancee, Mr. Hedrick and I were all friends at the time when they were in law school. Prosecutor Firestone and I had a bit of a friendship all through law school as well, but I'm not getting into that.
FWIW, we prevailed on Mr. Doyle's Civil First Amendment speech issue after I got John Waddy on the case and I moved to Texas and Virginia to put up cell towers -- where I routinely made deals to help out police and EMS personnel, of course.
Just call me the Spook who sat by the Door.
Related post: Nashua Telegraph Death Penalty forum.