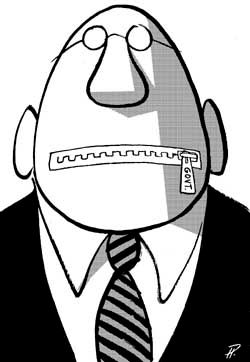 We at
KingCast
and
Justiceforkids
have waited patiently for May to arrive because NHSBA director Ted Comstock said they will be reviewing their policy, which recommends:
"Speakers may offer comments on such school operations and programs as concern them. In public session, however, the Board will not hear personal complaints against any person connected with the school system."
That is patently Unconsitutional:
Vague, viewpoint-based, content-based, over and underinclusive, you name it.
Related posts:
NH AG Kelly Ayotte is watching.
KingCast gives NHSBA failing grade on speech restrictions.
Jerry Doyle and I fought this battle
already
, and
won
.
Nashua School Board attorney Steve Bennett
agrees with us
.