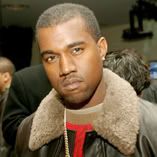 We were just waiting for
this
ugly thing to happen.
KingCast
respects the careers of both of these men immensely, so we'll just have to see how it pans out. Did Kanye infringe or is it clearly a parody? Time, a gaggle of attorneys and a bunch of dead trees will tell. FWIW, the 'Touch the Sky'
video
is one of the funniest, best sorted videos we've ever seen.
Related post:
Preserve the First Amendment at all costs
.
Related post:
The Clydesdale
.