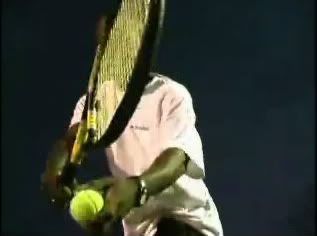 The ongoing issue over restrictive public comment First Amendment violations at the Nashua School Board saw substantial activity last week: Nashua City Attorney Bennett and I sent a high kicker to the backhand side at 40-30 as he issued a 5-page
opinion
solidly supporting The First Amendment, Alderman Teeboom, Board member Ziehm
KingCast
and
Justiceforkids
. The law really couldn't be much clearer.
The Board in turn knifed a backhand down the line and we moved to cover it with
Vagalebre #1
, in which some substantial factual issues were distinguished between that case and this one, chiefly that there was still another spoken forum at the board available to Plaintiffs whereas in this case there is not.
Now we knock off the volley for a winner into the open court:
Case Western Reserve had a darn fine law school, as there I learned in my comparative studies that a state can afford no less protection to its citizens than that which is guaranteed by the U.S. Constitution. Since
Vagalebre
is basically the only case of its kind supporting any kind of content or viewpoint-based speech restrictions in the Country, and scores of cases cited by Attorney Bennett and me analyze the U.S. Constitution and fall in our favor, it would indeed be unlawful for New Hampshire -- again, the "Live Free or Die State" -- to afford
less
protection to its citizens in the face of well-established law. And as I ask in my first visit to the Board, caught on film, "What compelling governmental interest is being furthered and why would you want to?"
I shall await the published opinions of Attorneys Loughman and Flygare on this issue.