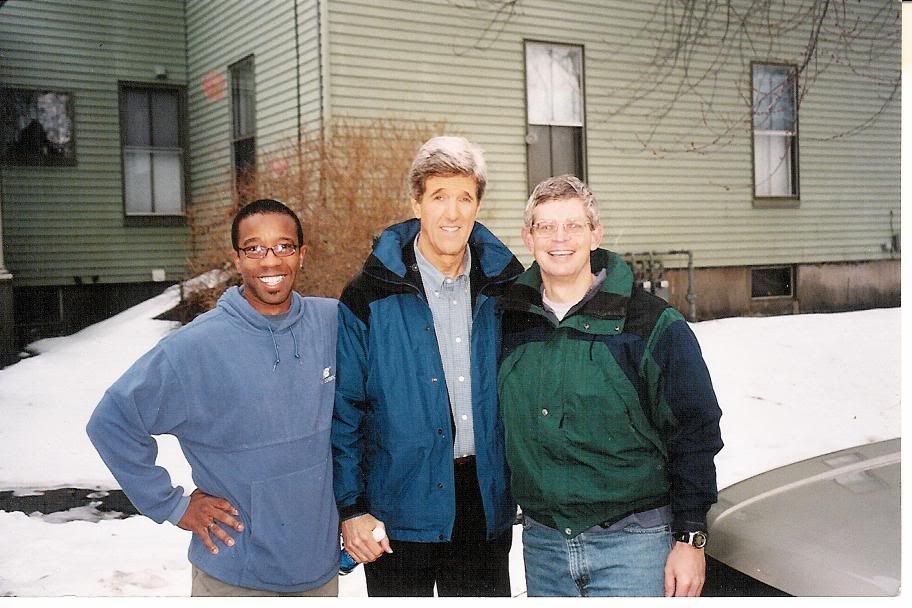 Look:
As far as Senator
John Kerry's
ballyhooed
"botched joke"
is concerned, we have a War President, and a War President needs nothing more than under-educated folks to go fight his wars. Watch the movies
right here
about that. I've got nothing against those who make a well-informed choice to join the Armed Forces. My
Uncle Joe
(RIP) was a Brigadier General years ago and my cousin just completed two (2) tours of duty in Iraq. That's good for them, they were both well-educated and they made choices not out of necessity but of their own free will, so I'm sorry, but the Senator's point was not lost on me at all.
You want to see a couple of botched jokes?
John Kerry's "botched joke" has got nothing on the botched jokes of NH AG Kelly Ayotte and Jaffrey, NH's Chief Dunn relative to my activities as NAACP Legal Redress Chair to seek redress for a man who faced three (3) drawn police guns and a visual body cavity search for LOITERING, which he beat
pro se
. I
smacked down
Chief Dunn and Prosecutor Albrecht on the criminal side, and
smacked down
80% of Kelly Ayotte's case in the Unlicensed Practice of Law case.
Tomorrow I may move for Summary Judgment because, as I note in my
request
for amicus to the ACLU:
"The ACLU needs to send a message that citizens -- especially leaders of Civil Rights organizations or other community groups -- have the right to petition the government for redress on behalf of non-members as long as they do not misrepresent themselves to be licensed attorneys."