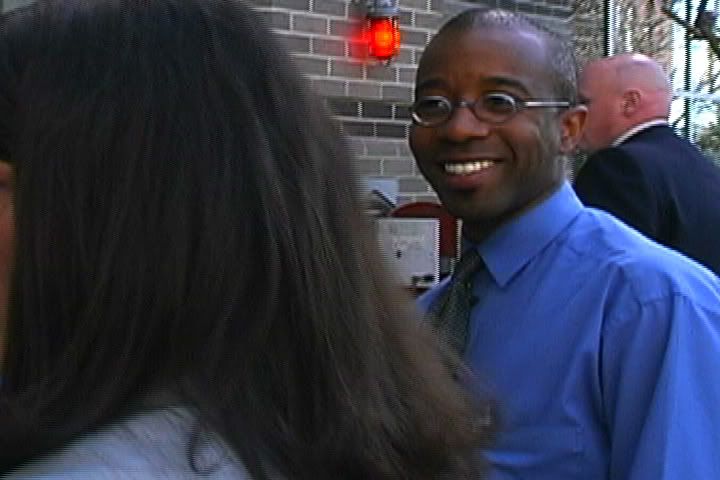 Jaffrey, NH -- Embattled Civil Rights leader Christopher King has used the power of his
KingCast
video podcast website and other media to effectively shut down a
misguided
state
pro
persecution against him for attempted felony extortion and contempt of court. Mr. King is a former photojournalist/editor, Ohio Assistant Attorney General, Civil Rights lawyer and NAACP Legal Redress Chair. He has also put more than a few
cell towers
in the ground and opened a title company under contract in Nashua, NH.
In his NAACP capacity he wrote a
Demand Letter
concerning police abuse occasioned by a young man named Willie Toney. The charges were brought down on Mr. King in retaliation, from former Jaffrey Police Chief Martin Dunn and Cheshire County Prosecutor Bill Albrecht, a couple of arrogant, hateful small town men of privilege and power who have
both
since been forced out of office after investigations into their professional integrity. The Albrecht
investigation
is in fact
still pending
. The local NAACP, through President
Gloria Timmons
, ran scared and
climbed into
the proverbial sack with these men, lying point blank and telling them that Mr. King had no Good Faith basis for threatening a lawsuit because the NAACP does not sue or threaten to sue -- a lie of immense proportions. There's Gloria now, hiding her face:
Those and many other lies have been set forth on this blawg over the past year -- as it is the only blawg in the World to link with a video podcast site to feature video from an actual First Amendment case. Facing a trial date with the film maker at the ready, the State balked. Twice. Mr. King is
indeed
a
media blogger
, and this is
what he teaches
his nieces about the NAACP.
Subject: All charges dropped !
Date: Thu, 7 Sep 2006 21:07:00 -0400
Chris:
I tried reaching by phone earlier today but we did not connect. Good news !

County Attorney William Cleary called me bright and early this morning and told me that he had decided to nol pross the two attempted theft by extortion charges. Two hours later we called the clerk's office and were told that the last remaining charges pending against you had in fact just been nol prossed. Your criminal cases are now over ! We do not have to appear in Cheshire County Superior Court again.
David
Mr. King, who has pretty much given up on any media coverage of the case other than the Keene Sentinel's Melanie Plenda, issued the following statement:
"I'm glad I can wash my hands of these clowns and rebuild my life now, even though I did lose a car over it. And I would like to thank my corporate sponsors, including Wilson Tennis rackets, Patron tequilas, Jagermeister and Sierra Nevada; also I've also been quite pleased with the performance of the team Yamaha Clydesdale."
PS:
The real thank-you letter is in the comments, and Daily Kos can still
kiss my ass
. And FWIW -- given this backdrop -- In my not-so-humble opinion, NH Superior Court Chief Justice Robert Lynn fares no better than Dunn or Albrecht for having the nerve to tell me my Civil Suit was "clearly an abuse of process." Watch him say it
right here
.