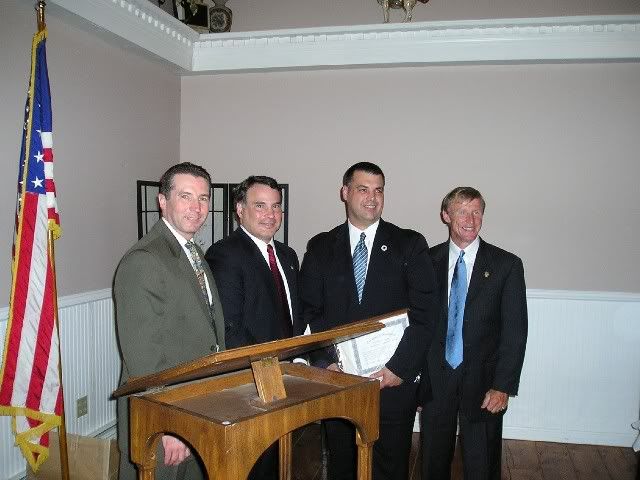 Okay. With
Chief Dunn
out of the picture, and with
Prosecutor Albrecht
out of the picture, will former Prosecutor Peter Heed take the helm to prosecute me now? The Keene Sentinel reports that Bill Albrecht's self-inflicted withdrawal from the election
"remains a mystery,"
and notes that many want Peter Heed to return to the post. Albrecht actually withdrew
after
the election filing deadline! My trial, BTW was scheduled for election day, 12 Sept. 2006. Scans forthcoming.
Albrecht refused to comment, but did cite job stress as a factor. Excuse me, but job stress in that position? He wouldn't have made it a day in the 5 Burroughs. How do you spell stress?
N-I-G-G-E-R
.
In the alternative,
N-I-G-G-E-R-on-the-W-E-B
.
Watch Albrecht try to shut my
highfalutin'
black ass down in "Oreo," now showing at
KingCast.net
.
Here's Prosecutor Albrecht and the
appearance of impropriety
.
Any way,
Attorney Heed is a good buddy of Chief Dunn's as seen in this
picture
(Marty left, Peter, right) from the
post
where I note all the lies that the NH AG's office has been involved in to try to screw me, and how they blew off my second complaint against Chief Dunn for
violating Rule 98
. Of course such a close association might lead me to file a Motion to have him removed. Interestingly, Chief Dunn tried to make a Big Deal out of me -- as a subordinate -- giving a Caucasian female manager what she wanted in the privacy of her office while I was a good
Worker Bee
-- but Peter Heed can't dare go there with me because he left office over a damn sex scandal where he was the manager groping a subordinate in public,
also
as noted in the above post. FWIW, I have agreed with Attorney Heed on Education (as noted in the related post, below) and think they made him a patsy -- same way they tried to do to me in
this case
.
My Brother KBCraig at NH Underground ummm... points out... what an
oxymoronic name
.
Note:
I have never seen so many AG's in one dangerous place at one time: I'm a
former AAG
(but just a
nigger in NH
); Heed is a former AG; and Judge Arnold is a former AG. They've been trying to pull rank on me for quite some time now, but as my attorney -- former Hillsborough lead prosecutor David A. Horan
points out
-- it's well past time for this case to be dismissed.
Related posts:
Why the AG's office blew off my Complaint against Chief Dunn the
first time
.
My favorite case of all time:
Yick Wo v. Hopkins
, 118 U.S. 356 (1886).
KingCast.net
and
Justiceforkids.net
: All filmed after my 4 years at the Ohio AG's office.