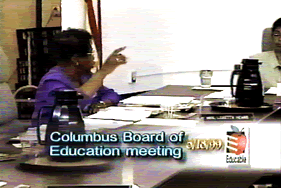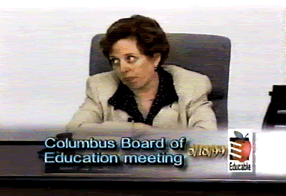 40-Love.
historian
Mary Jo Kilroy
, you and I are not drinking buddies anymore, and NH
Ransmeier & Spellman's
own
Charlie Bauer
joins you in this very special broadband video hosted at
Justiceforkids.net
as the Free Speech haters you have both proved to be. In the video, "Then and Now," we depict -- using actual footage -- what really goes on in the Columbus Courts and School Boards, and in NH courtrooms when little people attempt to petition the government for redress.
Watch Mary Jo roll her eyes out of disrespect to Board member Loretta Heard
when Heard challenges her on how she calls police to threaten folks. Call it reality Internet, if you will. Says
Heard
:
"What are you going to do, Mary Jo.... have everybody arrested?"
*
In the
video
, well-respected school board member Loretta Heard (RIP) specifically tells you
"as a black person,"
that she is appalled by your conduct in meting out Draconian Rule at Board meetings -- even calling police to stand behind us to threaten us.
*
Even U.S. District Court (SD/ED-Ohio) Judge Graham
agreed
with my former client Jerry L. Doyle on a case I initiated involving unlawful viewpoint-based prior restraint during your tenure.
*
Even your old business partner and Ohio Gubernatorial candidate
Bob Fitrakis, Esq
. called you a sellout and the "huge disappointment" (I've got it in an email somewhere, believe me) represented and
supported
Mr. Doyle, who has set forth hard core facts about widespread
corruption
, malfeasance and misfeasance at Columbus Public Schools. I successfully represented Mr. Doyle against an abusive First Amendment retaliatory arrest in 1998 -- as seen in the short film "American Lawyer #1" at
KingCast.net
.
And now you expect any forward-thinking people, or people in the black community to support you in light of what Mrs. Heard says to you in the video?
Give them one good reason.
-----
PS:
That's Charlie Bauer at the end of the video refusing to shake my hand, just as his sidekick
Maria Proulx, Esq.
did several months earlier. Whatever, I probably would need vat of battery acid to clear the slime off anyway before I dare touch my girlfriend with it.
PPS:
In the
video
, that's bowtie-wearin' NH Superior Court Chief Justice Robert Lynn, who presided over this
fiasco
on the day of taping, noting that he doesn't care whether it's true that Chief Dunn and the NAACP retaliated against me to try to shut down this blawg -- when such was the whole point of my lawsuit against them!
"You've got to put up with a little nonsense, that's the price of living in a free society,"
says Judge Lynn.
Well Your Honor, with all due respect the
nonsense
occurred in your courtroom, and I was on the receiving end of it.