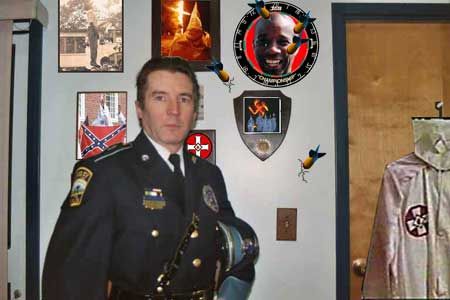 The Anti-Defamation League
concern
is noted in an interesting
thread
involving Jaffrey citizen Dick Olson, and developing over at NH Indy Media involving Saturday's upcoming "Live free or Die" Rally. Yesterday on NH Indy Media I
posted
about former Cheshire County Prosecutor and (soon-to-be
former
) Jaffrey Police Chief Dunn (pictured perhaps in parody but not in my opinion) running from the
bogus trial
against me and
leaving the bus unmanned
.
Mr. Olson is a major supporter of Chief Dunn, who as anyone can see, lied about me (again) in this
post
, claiming I was escorted from American Tower Corporation by the police. Perhaps for his part in supporting Dunn, voters showed Mr. Olson
the door
as selectman.
Here are two posts,
one from
me
and one from
Badcopnews
, quoting other black people about their experience in Jaffrey because of Chief Dunn. Mine quotes
Renaissance Room
owner Bill Perry, who hosted a
forum
, "Black in a white town." Says Mr. Perry:
"But the police force in Jaffrey has not been as friendly. In Jaffrey, I've been stopped four times. I finally said you know, I don't fit the profile of Jaffrey Center and I am being hassled by these people."
Eat your heart out, Chief Dunn. I hate everything you stand for. Cracker. I'll tell it to a Jury and I'll tell it to a Judge; Bull Connor's got
nothing
on you: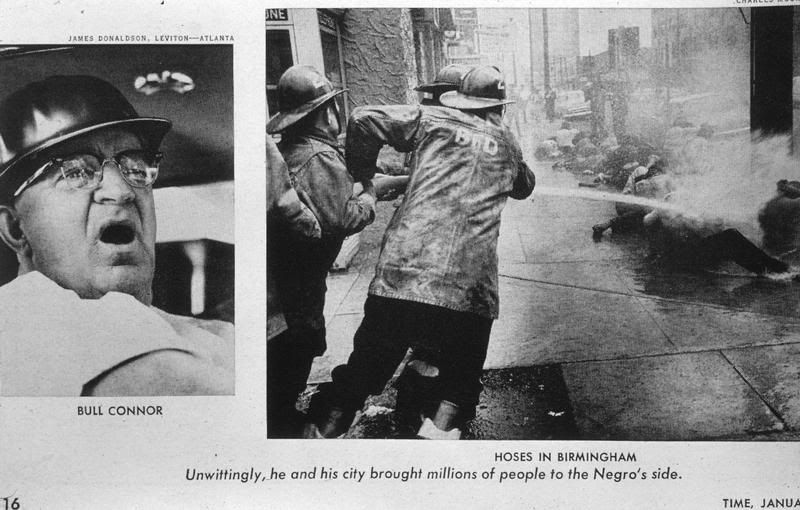 =======
In my response to the NH Indy Media post, I cited an earlier Indy Media
post
, "13 Reasons to Celebrate Black History Month in NH," in which someone responded as follows:
"Thanks, Chris. This is an amazing story and I'm still following it. I can't say I'm too surprised that this happened in Jaffrey. I grew up in the neighboring town and always heard from friends that the cops there are fucking crazy. Guess this proves that they are racist to boot. Wonderful waste of space the lot of them are."
You can live free in Jaffrey as long as you don't question authoritaaaay. You bet I'm sending this post to the ADL because I am sick and tired of the bullshit coming out of that town -- especially as I'm friends with previous Police Chief Phillip's former
Daughter-in-Law
.