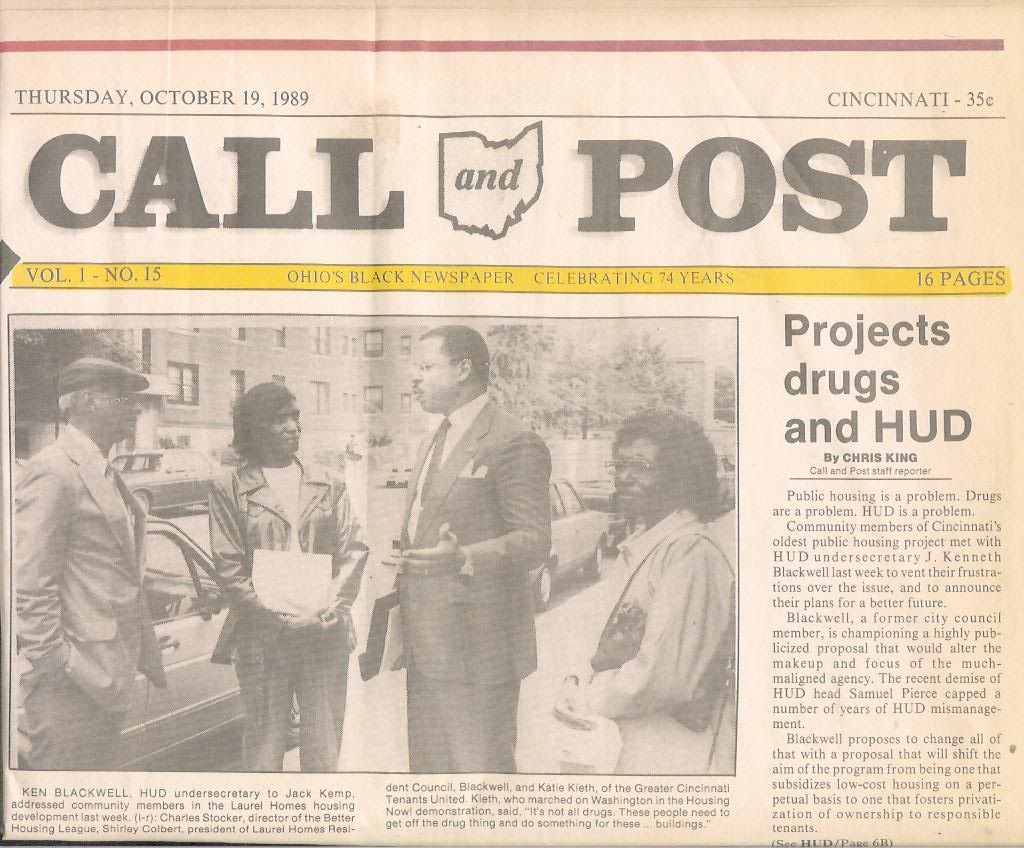 Ken Blackwell, 1989/06
"Our color -- but not our kind,"
they say.
It comes as no surprise to anyone following this blawg that
KingCast
supports this eclectic group of black professionals in Cuyahoga County, that held a meeting recently at which Commissioner Peter Lawson Jones, Esq., former Cuyahoga County lead prosecutor Stephanie Tubbs-Jones, Esq., Cleveland Mayor Frank Jackson and Warrensville Heights Mayor Marcia Fudge were all in attendence. In communicating with one of them recently we agreed that whether or not I used to have disagreements with Stephanie because I was
Terry
/
Gilbert's
law clerk, has nothing to do with the fact that Ken Blackwell is the worst thing for Black people (and Ohio in general) since.... Ken Blackwell.
Here's a recent
post
at 2006 Elections Blogspot where I note my support, and here's the excellent Pandagon Blog
link
.
Hell, even white Republicans dissed Blackwell as noted in
Cincinnati Black Blog
.
Then there is Blackwell's buddy, the hateful Republican Lawyer Scott Pullins and his actions, including his likely involvement with Gary Lankford in the
personal diatribes
against Ted Strickland and his wife reported in this
post
, not to mention his tertiary involvement in the suicide of Brandon Ratliff, a young returning serviceman in Columbus, Ohio who lost his job at the community health center because of a lack of funds. As State employee MLM Liberal
points out
, Pullins' unprincipled and shameful campaign tricks led to the defeat of a ballot measure that would have provided the requisite funds to keep the well-liked war veteran's position open by taxing Columbus car rental visitors. Plagued by PTSD and feeling like a failure by the loss of his community, Mr. Ratliff took his own life in 2004. Here's the
City Investigation
on that.
And a little
surfing
reveals that Blackwell apparently compared gays and lesbians to arsonists and kleptomanics -- which fits squarely with the Pullins diatribe. Perhaps after all it's
Ken and Scott
have got a lil' love jones going on, eh?
Whatever the case, if you're doing something foul as a corporate entity, lawyer, judge or politician and we see it, you're subject to see yourself here or on
KingCast
or
Justiceforkids
.
Related posts:
HUD + privatization = corruption and lost civil liberties
.
Ken's pandering political ads
.
John Kerry slams Blackwell
.
Site of the Day is Pandagon Blog
.