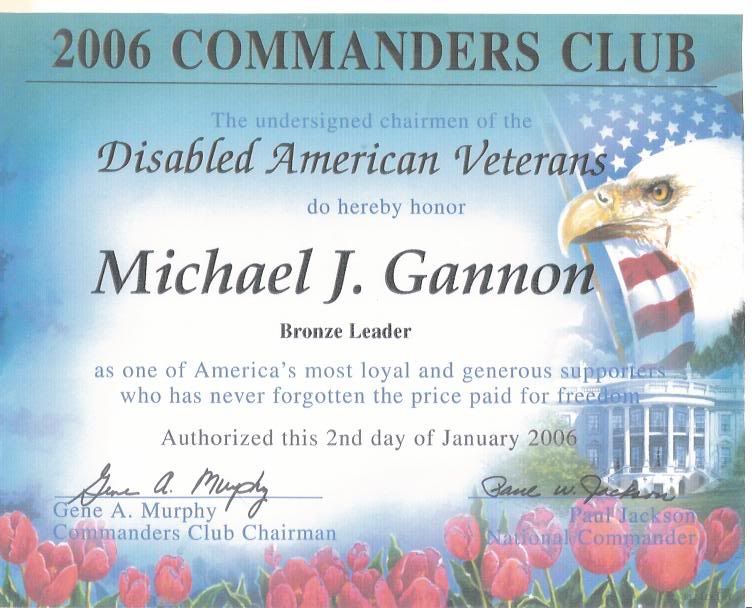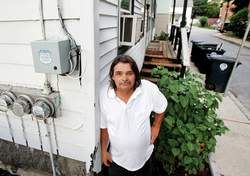 This is another installment in a serious of indefinite duration involving Nashua father and U.S. Army Veteran Michael J. Gannon, who was falsely and maliciously charged with wiretapping after he produced videotapes of Nashua Police acting disrespectfully in his own home earlier this year. This is my first interview with him and here are two posts where Nashua Police initially (includes Dvorak Uncensored link), then finally declared they would not prosecute. The problem is, they still have a lot of video tapes that Mr. Gannon needs as evidence in order to sue them so several of us are trying to find him a lawyer with enough sack (m) or huevos (f) to actually sue the police. Here I interview Mr. Gannon in person, since he lives 300 feet up the road from a friend of mine with whom I was visiting last night, cooking veggie mushu with portabellas, crab cakes and a generous soupcon of pino grigio. On the table, not in the sauce.
======
Sometime when I was in grade school
Michael Gannon, now 49, took one giant step in the service of his country that almost killed him. Mr. Gannon, an Army topographic intelligencier who toured in Viet Nam and Germany and trained in Texas in 1973-1977 attempted to parachute his way to terra firma during some maneovers in Texas 'round about the time
Dubya' was MIA
. Unfortunately, an equipment malfunction left him shattered on the tarmac, lodged in between a VW Microbus and a Toyota Celica.
"I'll never forget, my chute was wrapped over the top of the bus,"
he says as I sit across from him slackjawed. He later served as a
USGS
flight control operative '77-80)
We tour his home accompanied by a rather nice full-breed Husky. I had a Husky/Sheppard/Collie mix
growing up
so I'm immediately comfortable. It is a clean, well-lighted place and he takes pride in the enourmous built-in salt water fish tank that the police shined their flashlights through that fateful night "that kills living organisms," Mr. Gannon added with an air of righteous indignation. I take special note of the crazy looking
boxfish
"couldn't get a Japanese Puffer," he says, while I am further amused by all of the ceramic figures throughout: his wife collects commercial figurines and he collects Eagles -- befitting for someone who has risked his life for this country. We talk about that and agree on a huge issue:
Powers-that-be are not exactly trying to point out that I was an Assistant Attorney General before this
ridiculous case
against me in Jaffrey, NH any more than they are likely to point out his military background in service to this country. He and I are both
Americans
, dammit. But when we point out
police abuse
, or
confront the government
or start taping things -- he in his house or me with
KingCast
and
Justiceforkids
-- all of a sudden we are the scum of Earth and accused of being criminals. We're not suffering
any
of that gladly.
From there it's out to the yard as we walk past his motorhome and F-250 dualie so I can check out his '05 H-D SuperGlide. Yes, us riders tend to be kindred spirits, especially as I read the plate "NOBS" -- (read: No Bullshit). It's quite a nice bike -- all 900lbs of it -- and it is a nice yard, too, with a sunken section in back for quiet entertainment. You would have no idea a yard like this sits only 50 feet from the street.
"I saved my money well and I've got good credit," says Mr. Gannon. "And I like to keep my things nice and protected. That's why I quit renting this house and bought it, so I could kick the drug dealers out of the end units.... and of course that's why I had the video cameras installed."
Mr. Gannon adds that he did bad-mouth the police at times because they never seemed to care too much when he called them about the drug dealers or other nefarious activity near his home. Or at least they didn't care too much until he implicated the police in wrongoing, that is.
========
At that point it was getting late but not too late to discuss two other key things:
First,
the altercation that resulted in the police coming to his house to look for his son in the first place is one that stems from a property disagreement between people who already knew each other. This is not some random issue or attack; his son was demanding a return of his property. Mr. Gannon notes that will come clear later.
Second, and most important:
"I audiotaped them by shoving a hand-held unit right in their face.... I wasn't hiding anything..... and there's several hours of tapes they still have... not just the one that everyone's talking about. Those tapes show them outside my house talking about me before my wife came downstairs and caught them, and several visits after that."