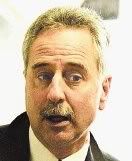 Just look at all the lies in this
post
, most significantly the one that Judge Arnold at one point accepted as gospel:
"King wrote the Demand Letter without any Good Faith belief that the NAACP as an entity, would sue."
That statement is the only glue that held the case together against me but this
post
alone -- quoting Philadelphia NAACP President Jerry Mondesier proves that Albrecht should have been SANCTIONED for even saying that. Not to mention the fact that pursuant to
NAACP v. Button
, 371 U.S. 415 (1963), I drafted a Demand Letter and shopped the case to several attorneys who for political, monetary or area-of-practice reasons declined to accept. That does not a crime, or criminal make and in fact
Button
(law review piece
here
) discusses the relative dearth of lawyers who will seriously try Civil Rights cases. The government beats you down when you press them too hard as I know from personal experience doing it as a former Assistant Attorney General (
paras 4-6
.) and subsequently receiving it as a Civil Rights lawyer (
case histories
).
Anyway, I contacted Attorney
Andrea Amodeo-Vickery
(read her notes
here
), Winer & Bennett's
Gary Braun
, Attorney
Dawn Caradonna
and -- ironically -- or perhaps not -- the man who would become Chief Dunn's suspension attorney: NH
Superlawyer
Andru
/
Volinsky
.
But with people like soon-to-be former Jaffrey Police Chief
Martin Dunn
,
Albrecht
and
Timmons
running amok, the Truth
never
matters. Frankly it's that way throughout the
entire country
, as NH Superior Court Chief Justice
Robert Lynn
, a Columbus plainclothes police officer and I show you in this Justiceforkids
video
compiled between Ohio and New Hampshire -- two of the most pivotal Presidential campaign states in the Union -- over the past 8 years. And as I have shown you in this
post
by example of Columbus School Board lawyers Cooper & Gentile, as well as Luis Alcalde and Keith Golden in Ohio, those in power have the right to abuse such power without consequence. Sadly, in this case it was Nashua NAACP President "Hide-my-face" Gloria Timmons who told Albrecht those lies in the first place, giving him the fuel to feed this forest fire that has now engulfed all of us in a trail of flames that I, as
Abednego
, am left to negotiate. What an Uncle Tom sellout she is, calling white folks in NH crackers from the sanctity of her office
one day
and sleeping with them the next.
I will leave Albrecht alone but torture her with video for the rest of her life. Next year by this time every law student and every NAACP member in the country will see how she misguided Attorney Albrecht and Judge Arnold, and raped the cause of Justice -- Chief Dunn admitted she nor anyone else at the NAACP other than me ever even
asked
to see the
police report
regarding Willie Toney's original abuse claim! Gloria, don't you EVER threaten to
run me over
again because I will
smoke
your ass, just as I did in the "Day in Nashua" video running at
KingCast
.
KingCast
and
Justiceforkids
:
Striving to Balance
.