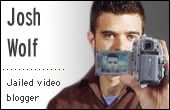 The
arrest
of video blogger ("vlogger") Josh Wolf for failing to turn over video information is yet another example of a world gone mad, just like the hassles that Nashua resident Mike Gannon and I have received, as I note in
response
to Michelle Meyers'
online story
about video bloggers. I got to her story by way of Crime and Federalism, which initially posted this
entry
and yesterday followed up with
this one
, citing
Sabri v. United States
as a creepy enlargement of federal powers -- given that Mr. Wolf stands before a
Federal
Grand Jury for incidents relating to him withholding information (video) about a crime committed against
State property
.
Read the PDF Affidavit filed by Attorney Jose Luis Fuentes on Mr. Wolf's behalf, authored by a California Attorney General Bill Lockyer no less, right
here
. Attorney Fuentes and I just spoke about the vagaries of 18 U.S.C. 846 -- the Arson statute by which the Feds have stolen jurisdiction -- and when he is finished with the bail issues he will address the fact that the Commerce Clause requirement is not met in this case; Jurisdiction should not have been conferred. See
U.S. v. Lopez
, 514 U.S. 549 (1995). That's the gravamen
right there
. Duh.
"I stand in abject horror at Mr. Wolf's situation and I can actually understand the ridiculous nature of it because of my case,"
I told Attorney Fuentes. My projected syllabus is
here
.
======
Note that the Meyers
CNET Piece
as referenced above talks of a Video Blogger Revolution:
That's right where I've been coming from
, even before we put our videos up -- now hosted at
KingCast.net
and
Justiceforkids.net
-- in Spring of 2005. As you can clearly see,
many other bloggers
recognize that fact even though I'm apparently not welcomed in the elitist cyberspace uber-realms, and am
denied recognition
as a "Media Blogger" for Crissakes. And I must be a Revolutionary because they've tried to shut me down seven
(7) times!
Similarly,
if Mr. Wolf is compelled to give up that video it will be the key that unlocks the door to dungeons and torture rooms chock full of government doms. They want to shut him down just as much as they want to shut me down, and that much is patently obvious.
======
As you can see by my
comments
in response to the CNET coverage, I think it is great that Mr. Wolf and I can have our moment of solidarity despite the fact that in 1988 he was in 3rd grade when I was running
MS-DOS
and
covering
dirty politicians like Ken Blackwell :)
At the end of this 1 March 2006
post
about the NAACP trying to help lock me up, I said what Mr. Wolf
has
to be thinking as he continues his fight behind bars:
"They wanna' lock me up? I'll start "prisonblawg" since all you need is a damn phone to blawg anymore, and like Attica, we'll foment a damn bloody insurrection up in that b*tch; document abuses in real time, too. That's what I'm serving up; watch my movies, coming soon to a new website and... ahem..... server near you. Near everywhere."
UPDATE:
Even though Chief Dunn
failed to testify
at Aaron Deboisbriand's trial after he got him indicted for some bullshit witness tampering charge, my
final pretrial
on attempted theft charges for writing a Demand Letter to Chief Dunn about police abuse while I was an NAACP Executive Officer is still scheduled for
23 August 2006,
and Trial is scheduled for
12 September, 2006.
Here's w'happened on the last trial date when we were ready for a Jury to hear the case and Prosecutor Albrecht pulled a fast one:
NH Indy Media comment
.
Blawg Version
.