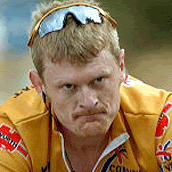 No, not
THAT
Chris King, just
lil' ole me
. How could 4 times the normal amount of testosterone arrive in Mr. Landis'
urine samples?
George Vecsey's compelling NYTimes
editorial
raises a disconcerting question, as he asks whether
anybody
can win the Tour de France on mineral water --
Lance Armstrong's
chain of negative test results notwithstanding. It's gotta make you wonder, these guys riding a race like that. In top shape, I ride 25 (off-road) miles in one day and I'm feeling the pain. Did Landis do it? Are they all doing it? Are some slicker than others? Jeezlouise.
With all of these problems, it unfortunately appears that the popularity of road cycling -- just like the career of soon-to-be former Jaffrey, NH Chief
Martin Dunn
, and hopefully that of U.S. Congressional candidate
Mary Jo Kilroy, Esq
. (Ohio D-15) -- is indeed headed straight downhill.