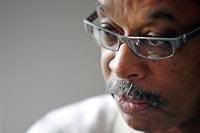 New York Daily News' Bill Hutchinson reports:
"Exxon Mobil's bloated revenues were the second-highest quarterly profits for a publicly-traded U.S. Company -- behind the $10.9 billion it earned in the fourth quarter of 2005."
Coincidentally -- or perhaps not -- I told you about the NAACP and
corporate fellatio
just the other day, in which my Uncle noted the presence of such such sexual activity is
precisely
what made me expendible. And just before
that
, I showed you why Saudi-lovin' oil magnate Dubya' is busy drillin' for crude nuggets up NAACP CEO Bruce Gordon's
narrow black ass
.
An astute mind at Daily Kos summarized the problem nicely right
here
with some musical accompaniement by Ike and Tina Turner. Keep in mind that Exxon is a major contributor to the NAACP,
natch
.
Suggested listening:
Myth of Rock
, by
Consolidated!
;
Disposable Heroes of Hipoprisy
and
Spearhead/Michael Franti
, whose new Album
"Yell Fire"
just debuted and who appears on this blawg with respect to American Tower Corporation's
failed attempt
to eviscerate it.
Suggested viewing:
"Day in Nashua" at
KingCast.net
. I tell you why in the comments.