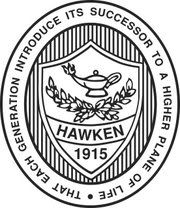 Unbelievable tragedy has again struck the Hawken Community. First
Grant Roth, Esq
. left our midst far too early because of a congenital heart defect. He was very tight with
David Cole, Esq
. with whom I attended Case Western Law school. But I've actually known Tom and David since 1972, I guess -- back when Tom stuck "little" David through a laundry chute and broke his arm IIRC :)
We all went to
Hawken School
, and like every young man we believed ourselves immunized against our own mortality. Grant was a great guy. Tom was a great guy. And David is
still
a great guy; he grew to be a pretty big guy since Hawken; bigger than me and with a ferocious return of serve, god I
hated
serving to him during our law school breaks. Breaks of
serve
that was, more against me than him! We were DC and CK, always shootin' the shit, always cool.
I spoke with him about a year ago not long after he bought a summer camp in New Hampshire (more on this momentarily) about the madness that has become
KingCast.net
. And we are all friends with one
Terry Gilbert, Esq
. and we are all progressive Cleveland East siders: Tom and David's family were the
minority owners
of the Cleveland Browns who wanted to do right by the City but who ultimately got duped by Art Modell's Baltimore Raven pick-up-and-go swindle -- no privity of contract between the city and the Browns because of Modell's "Stadium Corp" -- leaving an entire town morally broken some 15 years ago.
Those of us fortunate enough to be alive today bear an incumbent duty
to
make a difference
in this World; that is what
KingCast.net
and
Justiceforkids.net
is all about, and that is why David runs
Camp Robin Hood
in New Hampshire, which is where Tom was headed when he died of a heart attack. Now I have to call David and I just don't know what to say. The news in my email box from school is in the comments section.
DC:
You and Jamie hang in there my brother. Keep the faith in your toughest time, and when you feel like you can laugh again go watch soccer mom Molly make a cameo in
"Little Man."
It's stupid and mindless, mindless and stupid -- and makes no pretense at being anything else. But about half an hour into it, I laughed my head off for a few minutes, so that and seeing Molly again were worth the price of admission. Now I will go cry for you.
-CK