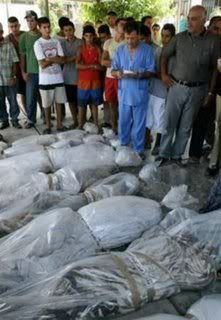 One World
Do I think the (German)
Holocaust
was one of the worst things the World has ever seen? Yes. Did my significant other and I visit the
Holocaust Museum
in 1994, shortly after it opened to pay our respects? Yes. Did she and I both weep? Yes. Were most of my
childhood
and
subsequent
friends and
mentors
Jewish?
Yes
.
But did I live with a Lebanese family for a summer in undergrad? Yes. And do I think Isreal and the U.S. are up to No Good in Lebanon and elsewhere, which has an interesting
antecedent
in 1996? Yes.
Regard "Truth Will Set you Free" law student-blogger
qrswave's post
on this, with slideshow images.
qrswave
and other
bright folks
have dropped by on this blog from time and time or blogrolled me; we keep in touch on the important things and I'm certain he will enjoy our new jointly-hosted video on
Justiceforkids.net
and
KingCast.net
premiering in the next few hours,
"Then and Now,"
because he hates government corruption, lies and deception just as much as I do.