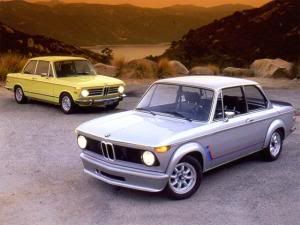 Cracks me right up that so many young BMW people -- even at BMW stores -- had
no idea
what I was driving
a few years ago (a '74 2002tii) when I told them "I need a shift knob for a 2002" they come out and see my car and ask "where's the
2002
?"
"
Right in front of you
."
Really cool 2002 article #1 from
BMW
.
Really cool 2002 article #2 from
Privateer
.
Anyway,
I'm bored while my film crew is finalizing colour and sound on
"Then and Now,"
so I linked to my favorite (affordable) car, and also figured in light of recent Tracksy activity that I would now link to my favorite and most accurate description of the
clusterfuck
that occurred between American Tower Corporation and the NAACP, with both of them hating my guts. One of them paid for for it in cash -- although I had to lose
the tii
to
Alex Vogel Restoration
in the melee -- and one of them is paying for it every day on this blawg.
Irony -- or not:
Mr. Vogel's shop, where I love to hang out, is right smack
next door
to the Dublin Police Station, where
Chief Letourneau
came from that
fateful night
to help draw guns on Willie Toney. We've got footage of me dancing on the bumper of the now mint-condition tii and we'll use it one of these days, but probably not before I buy another one.
And for trailblazing female automotive journalist
Jean Lindamood-Jennings
(Car & Driver, Automobile) yes, dear you have
no idea
how many hours I spent next to your beautiful
3.0CSi coupe
, arcticblau with the 5 spoke Campagnolo rims.
Long live old BMWs; get parts for them at
2002AD
.