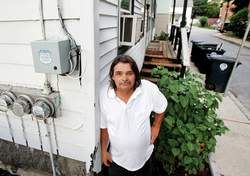 As previously
noted
, he lives a stone's throw from a friend of mine. My impression is that he is a nice guy, even though a blogger or two have opined that he's "not a ideal citizen" and shit like that. Query, why not I ask? Because he calls the police to his house after a home invasion? Because he has bad-mouthed a cop on occasion, for crissakes? That's part of why we have a Constitution, right? That's why our men and women are dying in Iraq, right? To preserve these goddamn freedoms, right?
Anyway, three interesting things about this situation:
First,
the "gun" that some folks are yapping about found in the home was reported stolen from Vermont several years ago and his son found it, rusted out in a stream. Big Whoop.
Second,
the senior care center across the street has audio-visual cameras. When will Nashua PD swoop down on
them
, one must wonder.
Third,
and most interesting, Nashua PD
already
had audio-visual tapes from the Gannon residence pursuant to a complaint he filed earlier about the neighborhood houligans -- which is why he bought the system in the
first place
, yo'.
So.... if the tape was so clearly a wiretap issue one must wonder why Nashua PD didn't communicate that to him from Jump Street, right? You know, from the git-go. Or is it only a wiretap issue when a cop is acting out of line and gets caught so doing?
Get it straight on Wednesday at your probable cause hearing, Mike. May see you there.
UPDATE:
Three areas of discussion reveal a proposed Statutory Amendment:
1.
NH Indy Media
.
2. NH Underground
#1
3. NH Underground
#2
Blawg Yahtzee:
Gannon
#1
,
#2
.