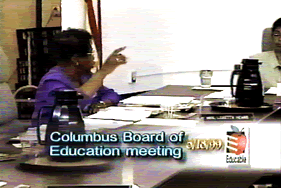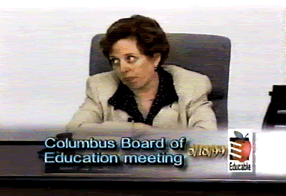 Yeah, Mary Jo, we used-ta' drink beers and stuff, but now I agree with well-respected School Board members
Bill Moss
and
Loretta Heard
, this time where Heard is about to tell the World, in video, that you as a Columbus School Board President were "creating a very bad taste in mouth of the black community" for calling the police to stand behind -- and to threaten -- public speakers who complained about the school district.
Jerry Doyle
actually won a
case
that I started because of your unlawful, hegemonic viewpoint-based prior restraint policy and practice. Ironically, your successor -- a black man -- has done no better and perhaps
worse
.
Remember how I sued your ass for First Amendment violations when you truncated my 3 minutes of Public Participation while I was trying to inquire about Mr. Hurt's son's
broken nose
, that went unreported, kind of like the Valentine's Day
massacre
at
West High School
, or like the
gang rape
of the black girl at Mifflin High School? And remember how that Judge threw it all out to protect you guys so you could finish fucking me over as a Columbus Attorney, even though Mr. Moss and Mrs. Heard testified in my favor? Yeah, I remember
all
of that.