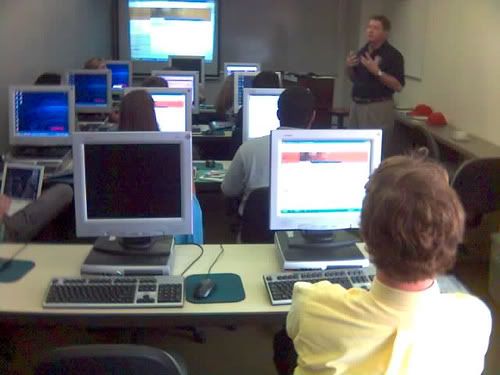 I'm still looking for inclusion into the media bloggers ring because as a former weekly editor/photojournalist and daily reporter, then Civil Rights lawyer and now blogger and video
podcaster
, I am a new watchdog as noted in your 1 July
blog entry
.
I am a blogger journalist, according to this media blogger
article
and issued a related
story
on my blawg.
The events from my life link well with other current events; that's why my Nashua neighbor Michael Gannon -- arrested for audio/videotaping police at his own home -- and I get along just fine.
Dvorak Uncensored
noted as much when they linked my blawg and video podcast site Kingcast.net last week. I
interviewed
Mr. Gannon:
And then of course there is the
New Mexico case
I noted where folks went to jail for taping police officers, allegedly because they exposed undercover cops.
Of course through my personal stuff I had
already noted
the governing case law on exposing police informants, resulting in the
successful
return of media [to my blawg] on the purportedly "open" Internet .....which of course as you know is under threat, see generally Save the Internet.
Not to mention the whole point of
KingCast.net
to bring cameras to the courtroom for little people to help maintain (or establish, as the case may be) integrity in the courtroom. We have directly influenced and reported on the outcome of criminal and civil trials involving the
First Amendment
, including a
failed attempt
to shut us down based on "stalking" of all things.
We
reported
the seminal Florida case won by noted First Amendment Attorney Jonathan Kaney who noted
"There's no privacy in a public courtroom,"
then we applied that law to my case, got some
embarrassing video
of my foes where misrepresentations are made to the Court, and are now editing some of the resulting footage for the "Then and now" short film. We show how media can deceive by showing a
photo sequence
of high-powered white lawyer Maria Proulx refuse to shake my [negro] hand, and as noted in the previous link, we've got high-powered white lawyer
Charlie Bauer
on video doing the same thing in open Court.
And
yesterday
we included media about Ken Blackwell that I wrote as a newspaper editor from 1989, even as
Blackwell
was accused of being a Down-Presser Man by current San Jose State University VP Marshall Goodman in the privatization of public housing wars. Diebold investor Blackwell is now subject to suit in a
qui tam
action
filed by RFK
, Jr. regarding
voter fraud
in Ohio. No, I
don't
hate to say "I told you so."
And we've got a really neat short video coming entitled "Then and Now" where you can see respected Columbus School Board member Loretta Heard (RIP) tell Franklin County Commish and Congressional candidate (and my erstwhile beer buddy)
Mary Jo Kilroy
"Young lady, you are creating a very bad taste in mouth of the black community"
for calling the police to stand behind -- and to threaten -- public speakers who complained about the school district. Kilroy wouldn't even let us stand together in solidarity at the podium, so Mrs. Heard dressed her down for that as well because standing together had been common practice. The board lost a First Amendment
case
that I initiated during Kilroy's tenure :)
Ours is the first attorney/legal-based video podcast site to contain actual courtroom video to my knowledge. If anyone knows of any to the contrary, let me know because I value accuracy in media; that is one thing on which Cousin
Mike Wilbon
and I concur. Of course, his Cousin
Carole Simpson
taught
him
well.
------
With these facts on the table it's hard to see how anyone could be more of a "media blogger" than I am.
The parents in Columbus, Ohio who commissioned us for
Justiceforkids.net
-- addressing abuse in schools, agree -- but apparently the Internet cognescenti do not. Interesting. If I have to take one over the other, I'll go with the parents any day.
* Note:
This entry is dedicated to
Soujourner Truth
, whose celebrated
speech
was ironically -- or perhaps not -- given in my home State of Ohio, in Akron, where I used to skateboard at Rainbow Skate part and listen to Devo and Chrissy Hynde and the Pretenders. My multimedia work certainly is.... a mystery achievement.
The Pretenders