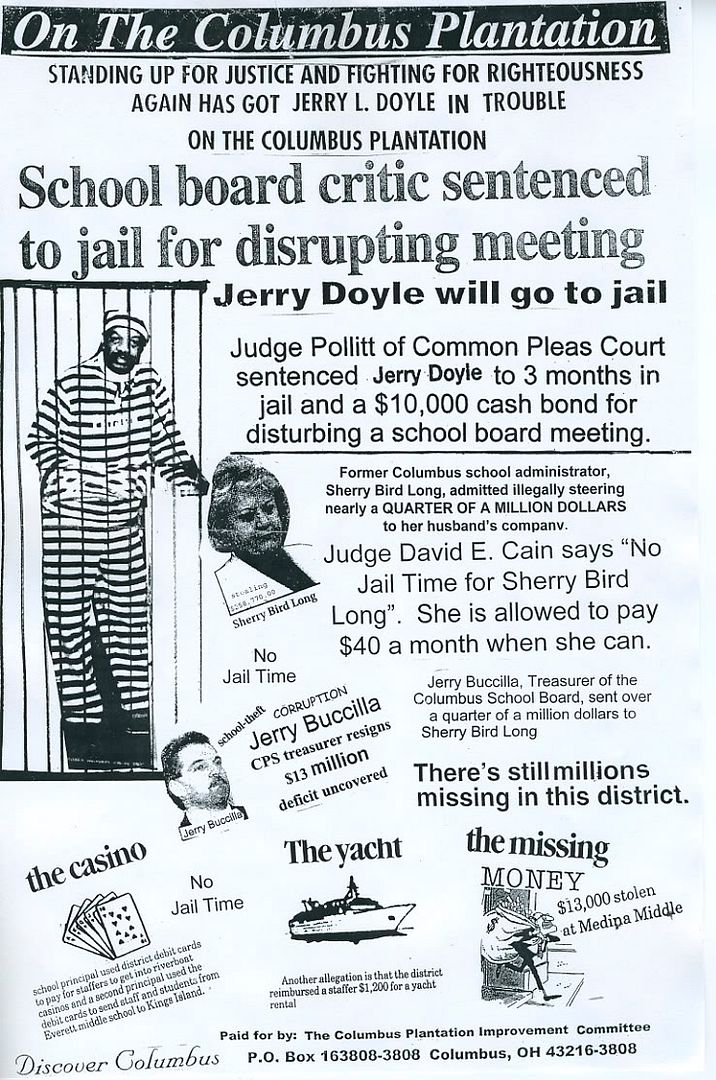 When I was a licensed, practicing attorney in Columbus, my answering machine (remember those?) at one point said:
"Hi. If you are black, a woman, poor, gay, handicapped or a white person without substantial financial means and living in Columbus, chances are that your Civil Rights are being violated right now, and you may not even know it. But thanks for calling me, because we'll set the record straight -- even if no one wants to admit it."
Truer words never were spoken, and such is
still
the case in Columbus Schools. Read this Due Process
follow up email
noting,
inter alia
, that my school board attorney nemesis Giselle Johnson, Esq. -- whom I believe is facing at least two pending Bar Complaints from the people involved in the situation as complaining party and advocates -- is still presiding over this case.
Read
here
about the "unprecedented" Teacher's Union "No Confidence vote" against Superintendent
Gene Harris
for,
inter alia
:
"Failure to maintain competent leadership at every school."
Read about the
$200K misappropriation conviction
of administrator Shirley Bird Long here in
section 2
, and see how they locked Jerry Doyle up for complaining about it. BTW she got no jail time and a $40/mo. payment plan from stateside Judge Cain, whose head you see flippantly dismissing me in the
Lemaster v. Bank One case
, in a KingCast short film
"American Lawyer 1."
He went on to issue me a $5,000 sanction without an evidentiary hearing. We've got
his
evidentiary hearing on video, however.
And don't look to the Federal Courts to do much about it, either except shoot the messenger (
Minnis
).
KingCast.net
and
Justiceforkids.net
: Crazy about Justice; sick and tired of the bullshit.