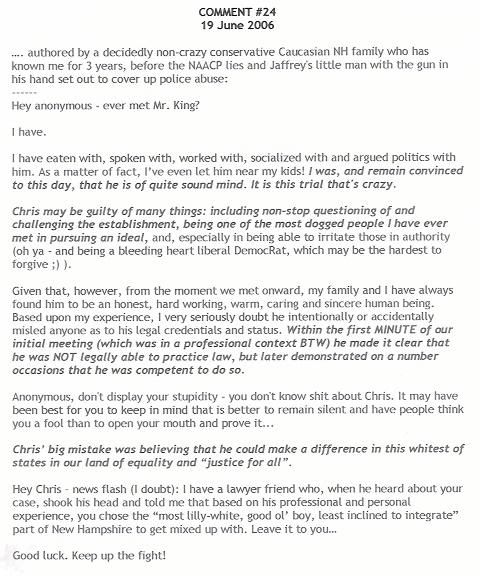 Click and expand each letter image to
Spot
the
/
difference
.
Thing is, the conservative Caucasian NH family who wrote the
letter in support
actually
knows
me, which shows the limitations of two-dimensional fora such as the Internet. Or it shows that there are simply some haters out there, some of whom threaten to appear at trial and then
don't
, and some of whom criticize me endlessly on my blawg while ignoring the NAACP
lies under Oath
, a
deceitful prosecutor
and
little-man-with-the-gun-in-his-hand
Marty Dunn's lunacy. Whatever, it all makes for a good story, a good manuscript and a trip to
Sundance
.
I have eaten with, spoken with, worked with, socialized with and argued politics with him. As a matter of fact, I've even let him near my kids! I was, and remain convinced to this day, that he is of quite sound mind. It is this trial that's crazy.....Chris may be guilty of many things: including non-stop questioning of and challenging the establishment, being one of the most dogged people I have ever met in pursuing an ideal...
My family and I have always found him to be an honest, hard working, warm, caring and sincere human being.... Chris' big mistake was believing that he could make a difference in this whitest of states in our land of equality and "justice for all."
And then there is the $64,000.00 question:
Has it ever occurred to you haters that if Chief Dunn were actually a good cop, and correct about me, that he could actually get a
damn
/
job
and not be
suspended
, or asked twice -- with money on the table -- to
leave
the one he has?
Municipalities who have read this blawg (and believe me, I have
Tracksy
so I know goddamn well that they do) would simply say,
"Good work. Get that King bastard and come work for us; show us how you do it!"
KingCast.net
and
Justiceforkids.net
: Making a difference, whether the haters admit it or not.